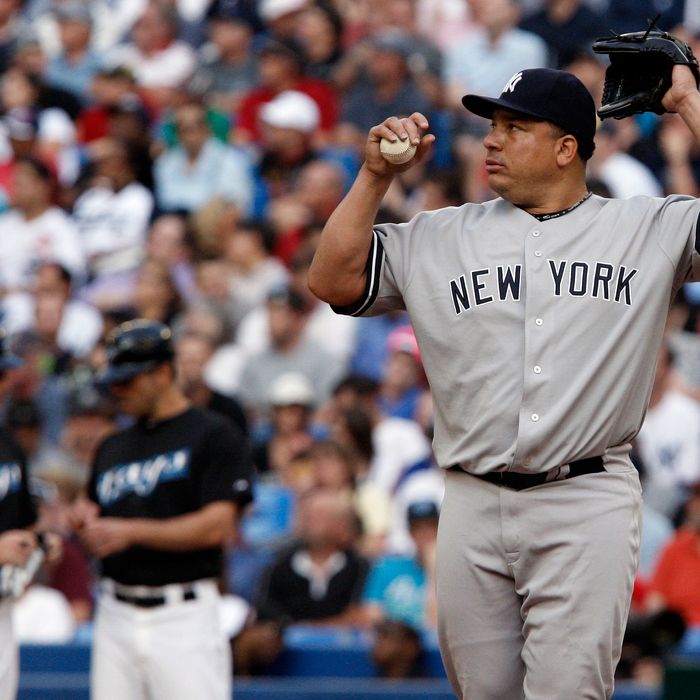 Bartolo Colon had so exceeded the Yankees' expectations during the season's first half that, in a sense, it feels like they're playing with house money now. Colon turned 38 in May, hadn't pitched in the majors since 2009, and didn't even crack the rotation out of Spring Training. So that he had solidified a starting job with an ERA that dropped under three after his Subway Series start on July 2, to go along with 78 strikeouts in 84 and a third innings through that outing, is more than they could have hoped for. And so perhaps his last two starts are blips on what will be an improbable season-long comeback. Or perhaps they're now seeing the downside of taking a chance on a 38-year-old. We fear it's the latter.
Last night, Colon turned in a disastrous start, lasting less than an inning against the Blue Jays. A costly Eduardo Nunez error didn't help matters, but his line last night was nonetheless ugly: six hits, two walks, no strikeouts, three earned runs, and five unearned runs in just two thirds of an inning. And on a team with a starting pitcher waiting in the minors for his chance to return to the big-league rotation, that's no way to keep one's job.
More concerning still was that Colon is apparently not fully recovered from the hamstring injury that landed him on the disabled list earlier in the season. He grimaced when covering first base last night and said after the game that while he feels no pain, he was still a bit nervous about the hamstring some two weeks after returning. "I'm afraid to push," he said through an interpreter.
For the record, Ivan Nova pitched yesterday for triple-A Scranton/Wilkes-Barre, taking the loss after allowing three runs over seven innings. He'd certainly pitched well enough to remain in the rotation, but the return of Phil Hughes meant someone had to lose their spot, and that meant a demotion for the young Nova. But the "problem" of having too many starters may now be working itself out, especially if Colon isn't fully healthy. (Joe Girardi said they'll have to figure out what's going on with Colon's hamstring over the next couple of days, even though  Colon "always says that he's okay.")
The Yankees have remained at or near the top of the A.L. East this season in large part because of a rotation that, as a whole, has performed better than many expected it would before the season — a particularly impressive feat considering how little they've gotten out of Hughes. And Colon had exceeded expectations more than anybody. But last night, he hardly resembled the Colon who'd been overpowering hitters earlier in the season.
The Yankees, by the way, made a little bit of a comeback last night, cutting a 9–0 deficit to 9–7 in the sixth. But once Hector Noesi left the game, the Jays would score seven more runs. (Sergio "Street Fighting Man" Mitre was charged with four of them, three of which were earned.) Final score: 16–7 Toronto. Freddy Garcia pitches tonight.