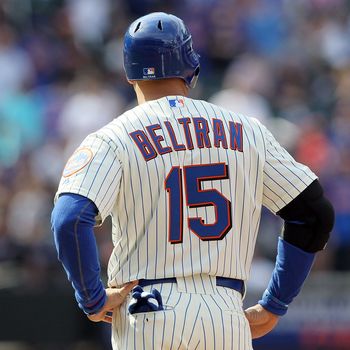 As Buster Olney tweeted earlier this morning, when Carlos Beltran came to the plate for his first at-bat last night, he looked over at Olney and asked, "Got any updates for me?" Two at-bats later, he launched a massive home run into right field, his 149th as a Met. He'll be traded in the next week, which means, if you can believe it, he's playing his last game in Flushing as a Met in about two hours.

The Mets won a thriller — or a heartbreaker, if you're this idiot — over the Cardinals last night 6–5 in ten innings on a walkoff homer by Angel Pagan. The Mets came back from two deficits, helped by some wretched Cardinals defense, and the biggest hit of the night was Beltran's moon shot, on a 3–2 count with two out in the fifth. We were surprised Beltran didn't get a curtain call. Because if you want to see him in a Mets uniform in person ever again, you better get out to the park, like, now.
Beltran is certain to be traded before the July 31 deadline, and the leading suitors appear to be the Phillies, who may be willing to trade Domonic Brown. (If the Mets can get Brown, one of the best outfield prospects in baseball who is having a better year than the Phillies think he is, they should be doing backflips all winter.) And as the schedule would have it, today is the Mets' last home game until August. Which means the Beltran-in-Flushing era, which has lasted seven occasionally disappointing but mostly excellent years, will be over by the time you leave the office today.
When Beltran was signed in 2005, after his blistering 2004 season (and, specifically, postseason) for the Astros, he was expected to be the next great superstar, inked for $119 million during Omar Minaya's first of many spending sprees. Beltran has always been ambivalent about the New York spotlight — this was a guy who cried when he was traded by the Royals in 2004 — and for the first few years, and especially during his injury years, he was never embraced in the way that he deserved. And even though he was won many fans back with this terrific season, the lasting image of his time here will still be the last out of the 2006 NLCS.
But it shouldn't be. Beltran will wrap up his Mets career ranking among the all-time franchise leaders in homers (sixth), RBIs (sixth), OPS (fifth), stolen bases (eleventh), hits (thirteenth), runs (eighth) and batting average (fourteenth). He earned the money the Mets paid him, even if the World Series they signed him for never materialized. In a week, Beltran will be a Phillie, or a Red Sox, or a Giant, or even an Indian. Today, though, for the last time, he will wear the home uniform for the team he spent seven years with. Embattled his entire time in Flushing, Beltran ultimately was one of the best players in Mets franchise history. Today is fans' last chance to let him know how much they appreciated it.