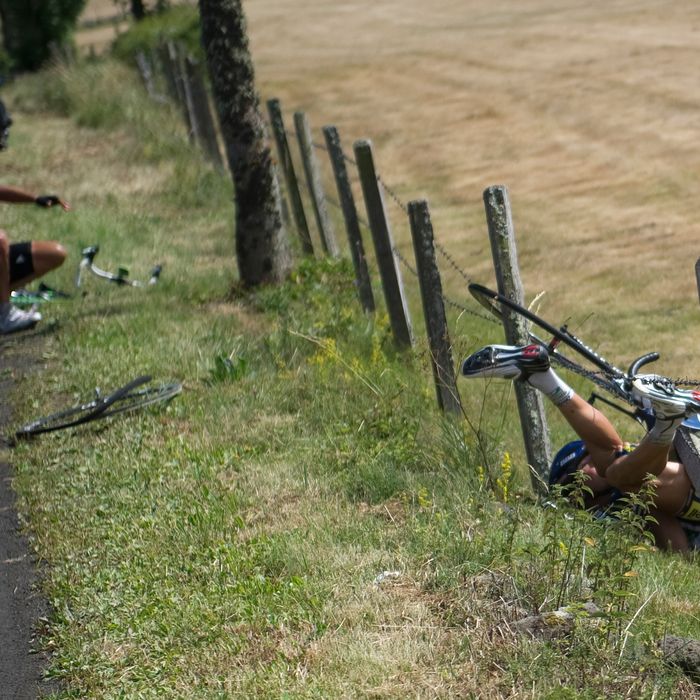 VeloNews has dubbed it the Tour of Last Man Standing. Entering today's rest day, the Tour de France's field of 198 men has been reduced to 180, almost solely due to crashes. Looking back on the week that was, there's nothing but concussions and stitches and broken bones for miles to see.
Remember Bradley Wiggins, the great British hope for winning the Tour de France, who was in the best shape of his career? He's out of the race as of Friday's Stage 7, victim to a broken collarbone. (Also joining the broken clavicle club was noncontender Remi Pauriol from the French team FDJ.) What about Levi Leipheimer, stalwart former Lance Armstrong domestique (the cycling equivalent of a wingman) on Team RadioShack? He finished 3:06 back on the day, and 4:28 behind top general classification (GC) contender Cadel Evans — an almost impossible deficit to overcome — also thanks to the massive crash that took down Wiggins. (He also lost a minute in a crash in Stage 5.) And at the start of Saturday's Stage 8, another Team RadioShack member, Chris Horner, pulled out. The Wiggins crash forced him to bail into a ditch, where he was briefly knocked. He insisted on finishing the ride — he's 39, so he doesn't have many more chances at the Tour — and the team let him do it with a doctor close behind. But as he crossed the finish line, 12:41 behind stage winner Mark Cavendish, Horner kept asking if and when he crashed. He didn't remember the crash. Indeed, he didn't even know he was riding in the Tour de France. (See the disturbing video here.) Horner was diagnosed with a concussion, a fractured nose, and a leg hematoma. He's staying in the hospital until it's safe to return to the United States.
Horner's head trauma had been preceded by the withdrawal of Belgium's 2005 world road-race champion Tom Boonen, who'd crashed hard in Stage 5 and pulled out 90 kilometers into Stage 7 when he decided his wooziness would make him a danger to himself and other riders. Stage 5 pileups also claimed Team RadioShack member Janez Brajkovic. He was sent to a French hospital, from which he emerged with stitches, a concussion, and a broken collarbone. As Brajkovic told VeloNews: "I don't remember anything of the crash. I remember the moment I was about to crash and then the next thing I remember was our team doctor asking me if I thought I could continue. But I wasn't aware of where I was and which race I was in. Nothing. So it was clear that I had to go to the hospital."
Saturday's Stage 8 was mostly carnage-free, filled with "Medium Mountains" and generally exciting breakaways and chases that resulted in no change in the overall standings. (Twenty-four-year-old Portuguese rider Rui Costa won the stage after staying in the lead virtually the whole day.) The stage's only real victim was Team Rabbobank's Robert Gesink, 25, current holder of the white jersey (which delineates the best young rider), who had been a strong prerace favorite to finish in the GC top five. Suffering from back pain acquired — surprise! — during a crash in Stage 5, he dropped off the back of the Peloton when the race course headed uphill and the pressure on his back became too much to bear. He finished the day 68 seconds behind his closest rivals in the GC, and seems unlikely to compete for the yellow jersey .
Then Sunday's Stage 9 returned the Tour back to total, tragic mayhem. First, at 84 kilometers, poor, unlucky Alberto Contador hit the deck again, this time after getting entangled with Vladimir Karpets, a massive Russian rider. The Internet went wild with speculation that Karpets had deliberately pushed Contador down, which Karpets confirmed at the finish line. But Contador said he'd actually gotten his handlebars caught in Karpets's seat, and that threw him off balance. Contador flew into some spectators, then hit the pavement and had to change bikes. For those of you keeping track, this makes four crashes in eight days for Contador. The reigning champ also crashed without injury in Stage 1, losing 1:20 on his main rivals, then twice in Stage 5 (with Wiggins and Robert Gesink). (Meanwhile, his strongest teammate escaped relatively unharmed from a frightening Stage 5 incident involving a reckless motorcycle.) Contador is now 1:30 down, and the knee pain and swelling he'd been suffering since Stage 5 has flared up again thanks to the Stage 9 crash, which will make it difficult but not impossible for him to attack in the upcoming Pyrenees stages and make up his lost time. There are also serious doubts about his teammates' abilities to keep up with him and help in the mountains; he's already dropped them on intermediate climbs and none of them are even close to him in the general standings. As dire as things seem for Contador, though, a win from his underdog position could go a long way to rehabilitating his tarnished reputation.
A second, much more terrible Stage 9 crash came 103 kilometers in, during a wet descent on Col du Pas de Peyrol. Astana's Alexander Vinokourov, Garmin-Cervélo's Dave Zabriskie (the guy who's gone vegan), and Omega Pharma-Lotto teammates Jurgen Van den Broucke and Frederik Willems all slid off the road. Just the day before, Vinokourov, 37, known as one of the riders most likely to attack the field, had gone out alone to chase down the Stage 8 breakaway and nearly taken the yellow jersey for the first time in his career. On Sunday, he had to be carried out of the ravine with a broken femur. Given that Vino had declared his determination to retire at the end of this tour, this injury may well have ended his career. Zabriskie broke a wrist; Van den Broucke, a shoulder blade; and Willems, a collarbone. All four riders abandoned the race.
And then, 35 kilometers from the finish, a France TV car crashed into two members of an extremely promising five-man breakaway that had been out in front of the Peloton since the top of the first mountain and had built a lead of up to 7:20 at one point. The France TV car had apparently ignored radio orders to pull to the side and let a team car pass. Instead, it tried to pass the five riders on a narrow road but pulled in too early to avoid hitting a tree. The video is harrowing. First down was Spain's Juan Antonio Flecha, who rolled on the ground in front of another oncoming vehicle that stopped just short of him. Felcha was back on his bike, bleeding, in moments. Dutchman Johnny Hoogerland fared much worse. He ricocheted off Felcha and somersaulted several times into a barbed-wire fence, at 60 kph. The fence tore his bike shorts to pieces and left him naked and bleeding with deep wounds from three large gashes. He took several minutes to remount his bike and managed to finish 16:44 down, just inside the cutoff time for getting kicked out of the race. He'd earned enough King of the Mountains points in the breakaway, though, to win the polka dot jersey. Priorities in line, he mounted the podium, in tears, before heading to the hospital, where he required 33 stitches. The France TV car, like the Getty motorcycle that took down Sorensen, has been kicked out of the Tour.
What happened? The first week of the Tour used to be a mild sprinters' paradise, and Stage 7, the one that took out Wiggins, was the flattest of the Tour, a lovely ride through Brittany. In the case of that stage, the flat terrain was accompanied by 50 kph winds, and on a narrow stretch of road 38 kilometers from the end, a bunch of teams, worried about the potential for the wind to cause crashes, started trying to muscle to the front of the pack to make sure their GC contenders wouldn't get stuck behind a crash if it happened … and thus caused the crazy crash in the process. Besides less-than-desirable road conditions involving rain, gravel, traffic furniture, and errant spectators (and Getty motorcycles), the big issue causing the crashes seems to be panic. After Alberto Contador lost all that time by being at the back of the pack and therefore on the wrong side of a massive crash on Stage 1, the GC contenders have been acutely aware of the importance of being up front. That leads to chaotic muscling on narrow roads as in Stage 7, and more crashes in the final kilometers, since GC contenders are up front with sprint specialists and aren't quite as sure of themselves in those frenzied finishes. There needs to be a real movement among the teams to organize the Peloton so no more mad scrambles ensue.
In non-crash-related news, Mark Cavendish won two stages, 5 and 7, the first of which was particularly special given that it was an uphill finish and that Cavendish's usual lead-out train from Team HTC had fallen apart in the final kilometers, leaving him to power up the hill and to the front of the pack without any help. The wins bring him to seventeen career TDF stage wins. (Stage 6 win went to relative nobody Edvald Boasson Hagen from Team Sky). As for Stage 9, when the final three members of the breakaway who hadn't been hit by a car crossed the finish line, four minutes ahead of the field, Luis-Leon Sanchez had a stage win and Thomas Voekler had the yellow jersey. (He'd spent ten days in yellow in 2004 after another strategic breakaway.) Up next, the real race begins with three days in the Pyrenees. There should be some great dueling among the riders who manage to stay on their bikes.