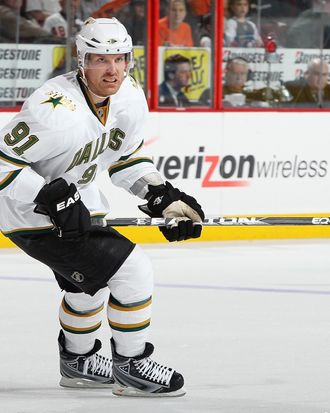 Rangers fans have been in this position before. The team has again made a big splash at the beginning of free agency, this time landing the biggest prize available in Brad Richards. And so by now, Rangers fans should understand the dangers of big free-agent contracts and know to keep their expectations in check, at least a little. Fool us once — as they did back in 2007 — shame on you. But fool us twice? Shame on everyone.
Richards signed this weekend for $60 million over nine years, and let's get this out of the way right now: The Rangers may very well regret this contract at some point over the next nine seasons. Richards is 31, and how long he performs at an elite level will determine when, or if, they do regret it. Yes, the extra-long contract length brings down the annual cap hit — but it also means said cap hit remains on the books as Richards approaches age 40.

Perhaps this is a classic example of overpaying in the long run to fill a need right now. But let's not forget: Richards does nicely fill a need right now. He's a legitimate top-line center, and that's something the Rangers badly needed last season. (He can also man the point on the power play, and he should even come in handy in shootouts.) Right now, for this upcoming year, Richards makes this team better. So let's focus on the now — or at least, the near future.

The Rangers have been perfectly mediocre since the lockout — never better than a fifth seed, never worse than ninth — and they're looking to change that, albeit in a risky way. The Rangers have a strong young core in place, and they're at various stages of development. (Compare, say, Derek Stepan and his one year of experience to Ryan Callahan, who is poised to become the next team captain. We'll assume here, by the way, that Glen Sather is able to lock up all his restricted free agents.) In recent years, making the playoffs has felt like an accomplishment. Winning a playoff round was something to be celebrated. But fans should be able to dream bigger than that.

Which isn't to say that the Rangers have to win the Stanley Cup next year or be labeled a massive failure. (They aren't the Miami Heat.) Their young players are still developing, and they've got a fair amount of ground to make up in the East. We're keeping our expectations in check here. But their progress as a team must accelerate now.

A few weeks ago, we weren't quite sure what this team's window of opportunity to win the Stanley Cup was. But we're starting to see it now, and it's shorter than nine years. With some key players in their prime and others just entering it, the clock is now ticking. It'll tick for a while still, but it's ticking nonetheless. And that's okay. That's how these things work. The Rangers know better than any team that one player alone doesn't make a team a contender, which is why we hope the addition of Richards to a promising roster will be different from so many past free-agent signings, at least over the first half of his contract. We want to be able to dream big again, no matter how many times we've been burned before.