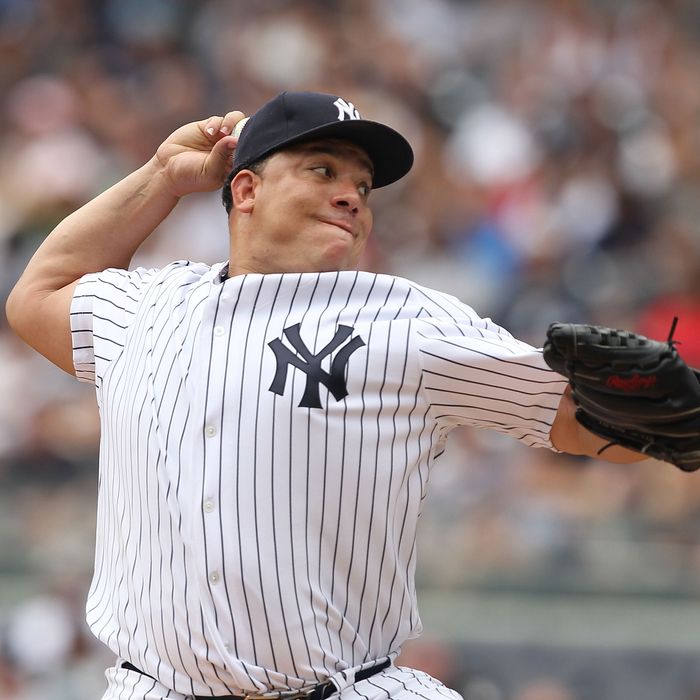 Everyone in the Yankees rotation will pitch at least once more before next weekend's trade deadline, giving Brian Cashman one final chance to evaluate whether adding a starting pitcher is a necessity or an insurance policy. And of course, the market will help him determine what kind of moves he can make: He might not want to give up the farm for Ubaldo Jimenez, and they can ask as nicely as they want, but the Rays won't be trading them James Shields. Still, the Yankees' needs will dictate how aggressive Cashman will be. So exactly how pressing is the need for another pitcher?
Well, on the one hand, Bartolo Colon pitched well yet again yesterday, throwing seven innings of two-run ball in a 7–5 Yankees victory. It's the deepest he's gone into a game since coming off the disabled list, and was his second straight quality start since his disastrous outing in Toronto. He also earned the victory — the first time he's done so after July 5 since 2005. That said, Colon will remain something of a question mark all season. Because let's be honest, he's not supposed to be doing this — not at his age, and not after so much time away from the big leagues. His last two outings suggest that he's still not done yet, but if at some point in the coming weeks he gets hurt again, or simply starts to consistently look like a 38-year-old, Cashman can't be too upset. None of us can. Quite simply, we didn't think when this season began that Colon could be quite this good.
But then there's Phil Hughes. On Friday, Hughes was given a 14–2 lead after three innings and couldn't even pitch deep enough into the game to earn the win. He'd appeared to make progress in his last outing, but on Friday, he took yet another step backwards. He's the anti-Colon: At 25, he should still be getting better, but he isn't. There have been times this year when he's made us wonder how much longer he can remain in a big-league rotation — the kind of thing we'd expected to be wondering about Colon. And maybe he will turn things around and again resemble the pitcher who'd started last season so hot, or who shut down the Twins in the ALDS. We'd settle for the guy who threw six innings of two-run ball against Toronto last weekend. The question then becomes whether he'll turn it around in time to help the 2011 Yankees as a starting pitcher. That's what Brian Cashman has to decide. Because, quite simply, we didn't think when this season began that Hughes could be quite this bad.
The Yankees have some margin for error, at least once Ivan Nova's ankle heals. But in the meantime, Cashman needs to ask himself two questions: Does he think Colon will come back down to Earth, and does he think Hughes's season will ever really take off? If the answers are yes and no respectively, adding another arm — not necessarily a front-of-the-rotation starter, but someone dependable enough to pitch every five days — becomes a necessity, even for a team that currently has the third best record in all of baseball and has lost just one series since June 9. (We're not even going to get into Freddy Garcia, who's also exceeded expectations, because at least he was durable enough to make 28 starts last season.) Most likely, Cashman already knows what his level of urgency is, and (barring injury) the next week won't do much to change that. Still, he's in an interesting spot. The Yankees play their 100th game of the season tonight. You'd think there'd be a little less uncertainty by now.