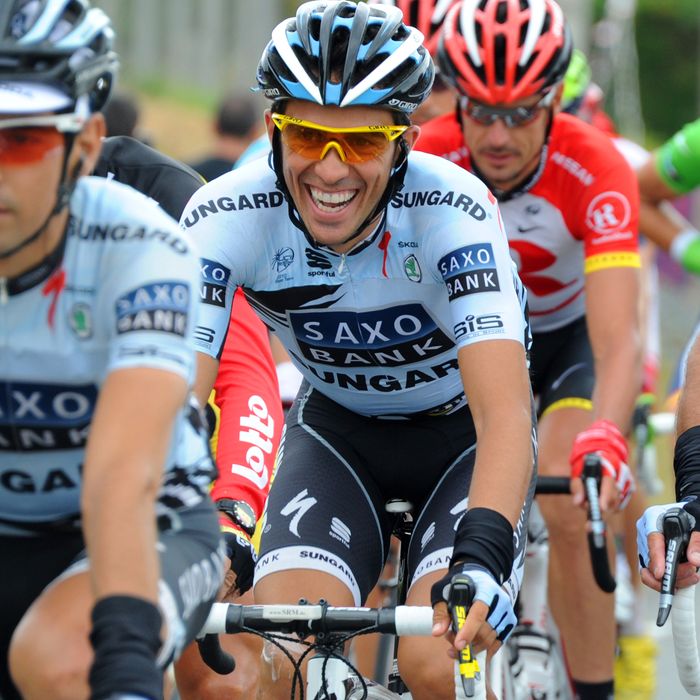 As we go into Stage 12, the first stage of real-man mountains in the Pyrenees, where do things stand in this most crash-tastic Tour de France? Tomorrow's Stage 12 features not one, but two mountains that are so hard to climb they're classified as "beyond categorization" (HC, or hors categorie). Thomas Voeckler has the yellow jersey, but even he's not deluded enough to think he'll still have it by the end of tomorrow. In the next three days, all eyes will be on Alberto Contador, 1:30 behind his main rivals after an early crash, and with a sore and swollen knee due to the three other crashes he got into last week (as opposed to zero crashes for Cadel Evans and one for the Schleck brothers). He needs to attack to stand a chance of winning, but will his body let him?
The Crash Toll, or where the mayhem stands for everyone else who isn't Contador.
Team Sky has lost Britton Bradley Wiggins, who was a major contender to win it all. Also gone, Omega Pharma-Lotto team captain Jurgen Van den Broeck, vegan American Dave Zabriskie of Gramin-Cervélo, and exciting Russian attack dog Alexandre Vinokourov (Astana), who faces at least three months' recovery after surgery for a broken femur. He was due to retire after this TDF, but may change plans since this one ended so ungloriously.
No team, though, has been more decimated than Lance Armstrong's former team, RadioShack. Three of its nine riders, including two of four leaders, are out of the race due to crash injuries (Jani Brajkovic, Chris Horner, and Yaroslav Popovych, who had a fever too), and its two remaining leaders (back-injured Andreas Klöden and Levi Leipheimer, victim of four crashes, including one on Tuesday's Stage 10) are limping through the race as the biking wounded.
Wet, narrow roads and crosswinds have been partially to blame, but Leipheimer and RadioShack team manager Johan Bruyneel think that early crashes started a vicious cycle. The more crashes there are, the more teams panic and try to get their good riders up front to avoid getting stuck behind a pileup and losing time. And because so many teams are so strong, the number of riders jockeying to get to the front has increased manifold. RadioShack, which always rides up front, has borne the brunt of the unruly surges.
Since the weekend, we had another giant pileup just ten kilometers into Stage 10, involving big-timers Fabian Cancellara (best time trialist in the world), Levi Leipheimer (again), Robert Gesink (again) and Christian Vande Velde (leader of team Garmin Cervélo), along with both Andy and Frank Schleck and several more of their Leopard Trek teammates (five downed riders from that team in total). Luckily for the Schlecks, unlucky Alberto Contador just happened to be caught up in the mess, too, so he didn't gain back any time on them. Lest you think this is normal, it's not. The crashing has been so inordinately rampant this year that the UCI is going to launch an investigation as soon as the Tour is over.
Then, of course, there's the matter of that freaking car crash . The driver of the France TV car has been kicked out of the race and faces a possible lawsuit and possible criminal charges for what was essentially a hit and run. Both victims, Johnny Hoogerland and Juan Antonio Felcha, were awarded red race numbers at the start of Stage 10 for being the most aggressive riders on the previous stage, the first time in Tour history two riders have gotten that accolade. Giant props go especially to Hoogerland, who not only finished Stage 9 after having his skin and bike shorts torn to shreds after somersaulting into a barbed wire fence, but who has somehow, miraculously, held onto the polka-dot King of the Mountains jersey for Stages 10 and 11, while riding with 33 stitches.
Best sprinter of his generation Mark "Manx Missile" Cavendish won his third stage, despite an uncooperative shoe.
Stage 11 had a couple medium-sized mountains, but ended in a long, wide, straight descent perfect for sprinters. A valiant six-man breakaway took off seventeen kilometers after the start and almost stymied the chance for a sprint finish. But the Peloton swallowed the breakaway two kilometers from the finish, and it was pretty standard from there, with the exception of Cavendish's uncooperative shoe. Six hundred meters from the end, while the frenzy was well underway, Cavendish's shoe banged against the bike of Frenchman Romain Feillu, who just so happens to be the rider Cavendish publicly criticized throughout Week 1 for being a dangerous, reckless menace during sprints. (Feillu, for his part, has been accusing Cavendish of the same thing right back.) The collision caused Cavendish's shoe to unbuckle and his foot to come out of his shoe. And yet, dude still won the stage (the eighteenth of his career), along with the green sprinters' points jersey, bringing him one step closer to his goal of riding the green jersey into Paris. Feillu finished sixth.
But the former Cavendish teammate whom Cavendish dissed totally beat him in Stage 10!
You've got to love the underdog story of sprinter André "the Gorilla" Greipel; it's something straight out of Horrible Bosses. Last year he was on Mark Cavendish's team, HTC-Highroad, winning twenty stages, but only in the second-tier races Cavendish wouldn't deign to compete in. His status was as Cavendish's second banana — the team was basically built around getting Cavendish wins — and Cavendish had no qualms about pointing this out repeatedly to the press. This year, Greipel took the risk of switching to a team, Omega Pharma-Lotto, that needed a sprinter, knowing that the only way he stood a chance of winning a TDF stage was to race against Cavendish. Indeed, HTC-Highroad's team manager has said that if Greipel had been on HTC this year, he wouldn't be riding at the TDF since he wouldn't have been selected as one of the nine riders the team would have taken to France. (All the riders on HTC's TDF team are part of a "train" meant to lead Cavendish to victory.) In any case, Griepel got his revenge on Tuesday. Omega Pharma-Lotto took charge of the pace of the Peloton up a hill 25 kilometers from the end. The goal was to speed things up so much that Cavendish's leadout men, Mark Renshaw and Matt Goss, would drop off the back, leaving the Manx Missile vulnerable and alone. It worked, and Greipel got his first TDF stage win. Kind of like Rocky. Or the Karate Kid. Or that kid from Breaking Away. We should make a movie about it.
One guy got caught doping and people are weirdly happy about it.
Alexander Kolobnev, captain of Team Katusha, who is also a two-time silver medalist in the World Road Race Championships and the 2008 Olympic bronze medalist, tested positive for hyderochlorothiazide, a banned diuretic known to be a masking agent for performance-enhancing drugs. He claims not to know how it got into his system but chose to leave the race voluntarily and turned himself into the police for questioning. If a second sample (B sample) confirms the positive test of the first sample (A sample), the 30 year-old Russian faces a ban of up to two years from the sport, in addition to likely getting fired from his team and having to pay his team a fine of up to five times his annual salary. This would be his first offense. Jonathan Vaughters, who prides himself on running the clean and quite dominant team Garmin-Cervélo, was happy about the positive test. As he told VeloNews, "If you're going to make the sport cleaner, you have to catch people. It's part of it. I would be more concerned if no one was testing positive. That would show that the testing is ineffective."