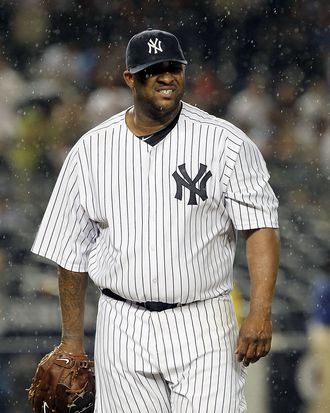 Yes, the box score will show that CC Sabathia only threw seven innings last night, and also walked three batters, in addition to giving up one hit. But boy, did it look for a while like he might pitch a no-hitter — or maybe even a perfect game. At the time the game was delayed (for the first time) by rain in the sixth inning, Sabathia had struck out seven straight Mariners. We're not sure we've ever waited out a rain delay with such anticipation: Not only had Sabathia retired the first sixteen batters in order, he'd done so with such ease, against a team that's in such a bad place right now, that getting those last eleven outs seemed entirely possible. Then play resumed, Sabathia got two more outs to end the sixth, and when he struck out Ichiro to lead off the seventh — Ichiro, no matter what his numbers look like this year, is not exactly someone you want to face while trying to pitch a no-hitter — it felt like Sabathia had cleared a huge hurdle.
Moments later, of course, Brendan Ryan's clean single would end Sabathia's perfect-game bid. And after recording two more outs and sitting through yet another rain delay, Sabathia came out for the eighth but wasn't particularly sharp, walking the bases loaded before David Robertson entered the game and, as he has so many times this year, got out of the inning without any major damage. Sabathia's final line for the night contained a couple of blemishes, but for six and a third innings, he was as in control as a pitcher can be. He finished the night with a career-high fourteen strikeouts, and with his bullpen adding four more, the team tied a franchise record for strikeouts in a nine-inning game, tying the mark set on the day Ron Guidry struck out eighteen by himself in 1978.
Francisco Cervelli, who caught Sabathia last night, said after the game that he thought in the first inning that Sabathia had a chance to throw a no-hitter. And you know what? We were thinking the same thing. Sabathia's been pitching so well over the last few weeks, and the Mariners, who've now lost seventeen straight games, are going through one of the worst stretches any team has ever gone through. On paper, it seemed entirely possible, and as the game went on, it seemed increasingly possible in reality, too.
That's what it's come to for the Mariners these days: At least they weren't no-hit last night. Though if Seattle's going to finally end this streak, today would seem like a good time to do it; Felix Hernandez takes the ball this afternoon, against Phil Hughes.