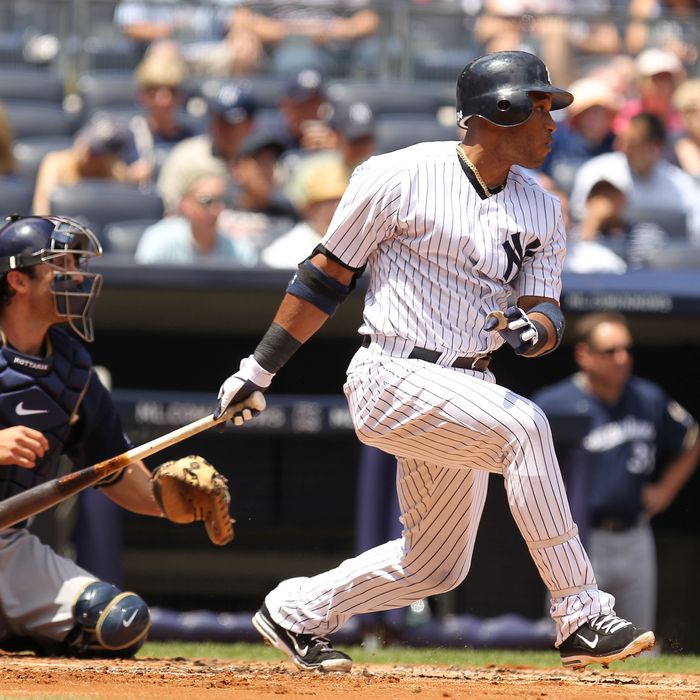 It's official now: Derek Jeter has become the 28th member of the 3,000-hit club. But it might not be too long before one of his teammates joins him: Alex Rodriguez, through Thursday, had compiled 2,762 hits of his own, leaving him 238 short. And considering Rodriguez is signed through 2017 — and that since 1996, he's failed to reach the 140-hit mark only once (in his injury-shortened 2009 season) — he's virtually assured of reaching the milestone. Of course, 1,535 of A-Rod's hits came as a member of either the Mariners or Rangers. Which got us wondering: What are the chances of another current Yankee not only getting to 3,000 hits, but getting them all with the club?
In the interest of being thorough, here are the six Yankees hitters, besides Jeter, who have appeared in a game this season and who have played their entire career in pinstripes: Robinson Cano, Brett Gardner, Jorge Posada, Eduardo Nunez, Francisco Cervelli, and Ramiro Pena. Just for fun, here's how much longer it would take each of them to reach 3,000 hits if they played to their 162-game average every season for the rest of their careers. (And obviously, this is being extremely generous. For instance, Pena isn't playing in 162 games anytime soon. Nor will Posada turn his career-average season every year for the next nine. But again, just for fun.)
Robinson Cano
Current age: 28
Current hits total (through Thursday): 1,174
Needs: 1,826
162-game average (via baseball-reference.com): 194
Would take: 9.4 years
Brett Gardner
Current age: 27
Current hits total: 297
Needs: 2,703
162-game average: 125
Would take: 21.6 years
Jorge Posada
Current age: 39
Current hits total: 1,635
Needs: 1,365
162-game average: 148
Would take: 9.2 years
Eduardo Nunez
Current age: 24
Current hits total: 46
Needs: 2,954
162-game average: 94
Would take: 31.4 years
Francisco Cervelli
Current age: 25
Current hits total: 115
Needs: 2,885
162-game average: 115
Would take: 25.1 years
Ramiro Pena
Current age: 25
Current hits total: 70
Needs: 2,930
162-game average: 68
Would take: 43.1 years
The takeaway from this exercize: Only Robinson Cano has a real shot among the career Yankees, something you surely already knew. But what, exactly, are his chances? To find out, we reached out to Dan Szymborski of espn.com and Baseball Think Factory, and creator of the ZiPS projection system. Szymborski says he projects Cano to finish his career with 2,815 hits — 185 short of the milestone. That said, he gives Cano a 32 percent chance of reaching 3,000.

"He's on pace right now to beat 3,000, but a lot of things can go wrong in a decade," says Szymborski. "For really good players, uncertainty is mostly on the negative side, which causes people to find a lot more players in line to accomplish something than actually do in the end." In other words, it'll be a while before a homegrown Yankee accomplishes what Derek Jeter just did, and it's quite possible that the second Yankee to get 3,000 hits in pinstripes isn't even on the team yet. Heck, he might not even be born yet. (This seems like a good place to note that the Yankees still have to sign Cano long-term for him to get all his hits with the club.) In the meantime, the A-Rod 3,000-hit watch begins now.