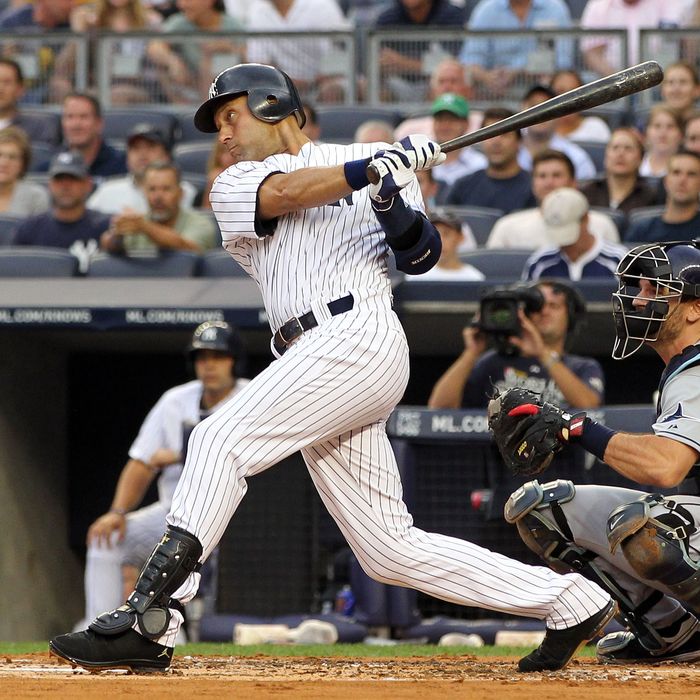 In the Great Hall of Yankee Stadium last night, there was a merchandise stand covered in a tarp with the "DJ3K" logo on it, presumably stocked with commemorative merchandise that the team can't sell until Derek Jeter actually reaches the 3,000-hit plateau. There was a baseball game to be played between the Yankees and the Rays, sure, but there was little doubt what the main attraction was at the stadium last night. And so when Jeter lined a double in his first at-bat — his third double in three games — even he thought that this could be the night.
And if not for Rays third-baseman Sean Rodriguez, who knows? Maybe last night would have been the night. Rodriguez, after all, made a terrific diving play to rob Jeter of a base hit down the line in the fifth, then made another nice play in the bottom of the ninth, charging a slow bouncer and throwing Jeter out to end the game. Jeter would go 1-for-5 in all, finishing the night at 2,998 hits. The chase goes on for at least another day.
Lost a bit in all this is that the Yankees dropped their fouth game out of five last night, scoring just one run off Tampa Bay starter Jeff Niemann in his seven and a third innings of work in the 5–1 loss. Meanwhile, Bartolo Colon wasn't sharp at all, allowing ten hits and five runs in five and two thirds innings. Worse still for Colon, who boasts one of the best strikeout-to-walk ratios in the American League this season: He struck out just one batter, but walked four. (Needless to say, it was a far cry from Colon's first outing since coming off the disabled list, when he tossed six shutout innings at Citi Field on Saturday.)
The Red Sox won last night, leapfrogging the Yankees and into first place in the East. Which means that for the time being, the Yankees sit in the Wild Card spot, three games ahead of these Rays. The Yankees had been playing their best baseball of the year through Saturday, and had won 23 of 31 games prior to this current four-losses-in-five-games stretch. They were bound to cool off eventually, particularly since they're playing two good teams this week. One just hopes that — once Jeter reaches his milestone, and all of the DJ3K commemorative tire gauges (or whatever the hell is underneath the afforementioned tarp) are sold out — the Yankees start to again resemble the team we'd been watching through Saturday.