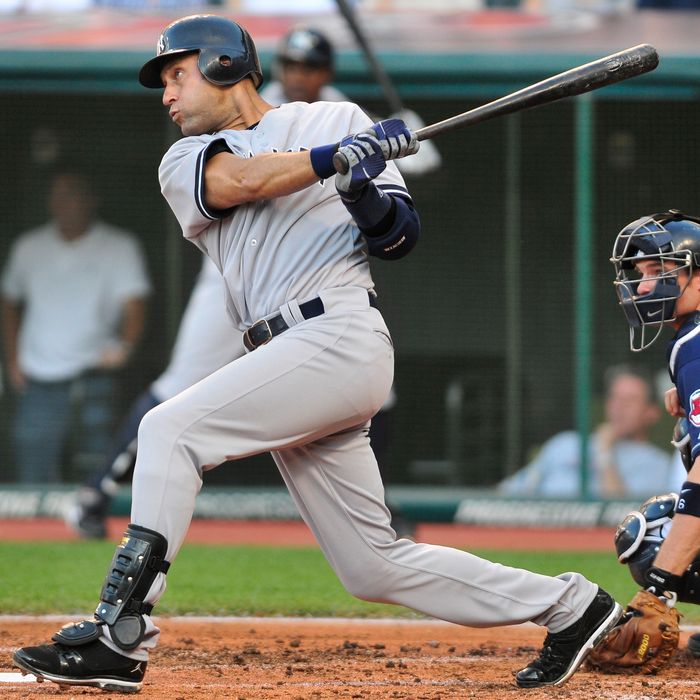 Derek Jeter collected two more hits last night — one a dribbler to the third baseman, and one a line-drive double to the left-center-field gap — which puts his career total at 2,996. (One hopes that when he finally gets his milestone hit, it looks more like that line drive. After all, we're going to be seeing this thing, over and over, for the rest of the man's life. No need to be reminded how many slow rollers he hits nowadays.) Anyway, he's four hits away now, and considering Jeter has twice this season collected four hits in a single game, we've finally reached the point where hit No. 3,000 could come any day.
Of course, it's more likely that Jeter will pick up the hit within the next few games, and with the Yankees returning home tomorrow for a four-game homestand, that's good news for fans. For what it's worth, Jeter is averaging a little over a hit per game played this season — 1.09375 hits per game, to be exact — which would set him up to get No. 3,000 Saturday at Yankee Stadium, with a day to spare before the All-Star break and the road trip that follows it. But we're close enough now that he could do this in a couple of productive days — or even one very productive night. So stay tuned.
The Yankees, by the way, cruised last night, thanks not just to Jeter (who drove in two runs), but also to Curtis Granderson (who homered twice) and most of all to CC Sabathia, who struck out eleven Indians in seven shutout innings en route to his twelfth win of the year. Sabathia, the All-Star snub, lowered his ERA to 2.90. (He'll just have to settle for a vacation in the Bahamas next week. Poor guy.) The comfortable 9–2 victory also meant that last night, at least, the Yankees didn't really miss Mariano Rivera and his sore right triceps.
But tonight (assuming he plays), and for however long it takes him to get four more hits, the spotlight will shine on the Yankees' captain. Jeter, by the way, is 5-for-12 in his career against tonight's Indians starter, Justin Masterson.