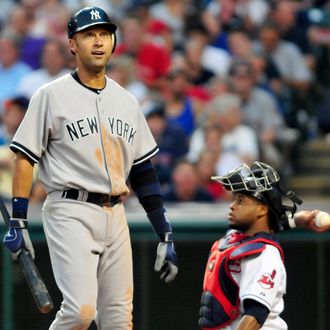 Derek Jeter is getting really close to 3,000 hits, you guys. We're talking close "specially designed 3,000-hit cleats" close. Sitting on 2,997 hits following his first series since returning from the disabled list, he could realistically get there in any of the four games on this, the final homestand before the All-Star break. Via Was Watching, he's gotten three or more hits in a game 254 times in his career, though he's only done it twice this year. (Oddly enough, he got four hits both times he accomplished it in 2011.) So what do Jeter's numbers look like against the four Tampa Bay starters he's scheduled to face?
Tonight, vs. righty Jeff Niemann
5-for-9 (.556), with one walk
Friday, vs. righty Jeremy Hellickson
1-for-2 (.500)
Saturday, vs. lefty David Price
6-for-25 (.240), with three walks
Sunday, vs. righty James Shields
17-for-54 (.315), with one walk
Jeter, for what it's worth, is 0-for-7 with a walk in two games against the Rays this season — games started by Price and Shields.