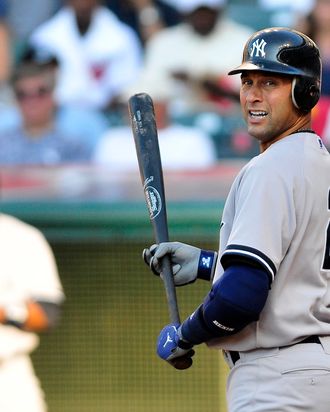 Photo: Jason Miller/2011 Getty Images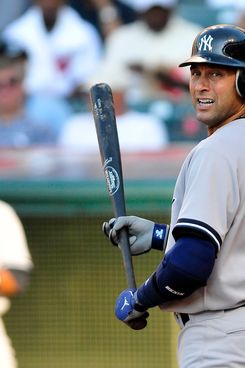 After nearly three weeks on the disabled list and a pair of games in Trenton — one of which was spent wearing this extremely patriotic uniform — Derek Jeter returned to the Yankees lineup yesterday, prompting a national holiday and celebratory fireworks displays all over the country. (This is, of course, a joke. Everyone knows yesterday's holiday was in celebration of John Sterling's birthday.) Anyway, Jeter went 0-for-4 last night — or 0-for-Fourth if you're writing a tabloid back-page headline — in a 6–3 Indians win in which all nine runs came in the seventh inning or later.
The Yankees had won seven straight games through Saturday, before blowing Sunday's Subway Series finale and falling to Cleveland last night. In eighteen games without Jeter, they went 14–4. Teams winning like that generally won't shake things up very much, but Jeter's return is just one of a few changes taking place this week. (This seems like a good place to mention that one change is entirely out of their control: After winning all six of their Interleague Series and going 13–5 against National League teams, they'll face nothing but American League teams from this point on.)
But back to the changes to the lineup and roster: Jeter's return means a big drop in playing time for Eduardo Nunez, who batted .339 in Jeter's absence, including going 7–8 in two games against the Mets this weekend. (Side note: After a couple weeks of shaky defense from Nunez and Ramiro Pena, expect to hear Jeter described as "sure handed" a lot this week. Like here, for example, or here.) Jeter's return also means that Brett Gardner loses his lead-off job, just as Joe Girardi said he would.
But other changes have nothing to do with Jeter's return: The end of road games in National League parks means that Jorge Posada — who raised his batting average 71 points in June, a month in which he posted a 1.007 OPS — once again becomes an everyday player. And then there are the changes to the rotation: Bartolo Colon returned on Saturday as if he'd never gotten hurt, striking out six Mets in six shutout innings. But with Phil Hughes set to return, Ivan Nova (4– 0 with a 3.41 ERA in his last five starts) was demoted to triple-A Scranton. Having too many strong starting pitchers is a classy problem, of course — and we'd rather Nova continue to start in the minors than be shuffled between the big-league rotation and the big-league bullpen — but Hughes instantly becomes the biggest question mark in a rotation that to this point has exceeded expectations.
Hughes, however, doesn't pitch until tomorrow night. Tonight, it's All-Star snub CC Sabathia, pitching against Carlos Carrasco.