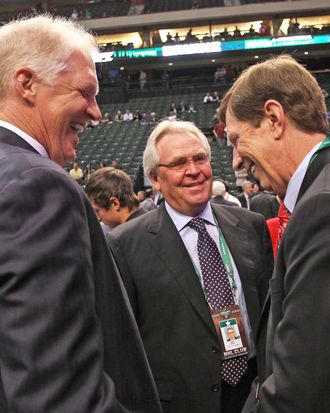 Over at Puck Daddy today, Ryan Lambert penned a post — its headline includes the phrase "How 'bout a hand for Glen Sather?" — that we generally agree with. It credits Sather for having an impressive July, in which he filled a major need by signing the best free agent on the market (more on that in a moment) and, without going to arbitration, agreed to reasonable contracts with all of the restricted free agents he intended to lock down. (Sather even made a trade for young defenseman Tim Erixon that's earned him high marks.) But we'd argue that while Sather has indeed had a productive month, it's actually a product of his larger plan — one that's been in place for a while now. He put himself in this position, in a good way.
There's the obvious, of course: That he even had talented restricted free agents is a testament to the way the team has developed its young players over the past several years. (After all, agreeing to terms with several promising young players while still dealing with a salary cap is a nice problem to have.) And that Sather has put together a team with some promise means that his RFAs aren't necessarily itching to leave town at the first possible chance. The end result is Callahan and Dubinsky potentially giving up years of unrestricted free agency (depending on the next collective bargaining agreement), in exchange for a bit more money next year, and more short-term security than an arbitrator would have given them. (One note: Lambert writes that some estimates had Callahan and Dubinsky getting as much as $6 million a year each from an arbitrator, but that's an absurdly high figure. Dubinsky, for example, reportedly only requested $4.6 million.) Sather played this well, yes, but being in a position to lock down the likes of Callahan and Dubinsky to reasonable contracts is the reward of not only having some success in the draft, but to committing to a system that values young players.
And since developing a core of young players is kind on the salary cap, it means the team not only has money to spend on the free agent market, but allows them to approach the free agency season as a chance to complement what they already have, or, perhaps more accurately, to take care of their most pressing needs. We already discussed Brad Richards earlier this month: The Rangers may regret this contract by the time it expires, but their window of opportunity is clearer now, and after so many years of mediocrity, it's nice to see them dreaming big. Building a team "the right way" doesn't preclude them from spending big on the occasional free agent. In fact, building the team with a young core is exactly the reason Sather had the money to spend on Richards. (Well, he at least had the money once he made some other regrettable contracts go away.) The trick, of course, is picking the right guys to spend big on. And starting in October, the real analysis of whether he did, in fact, get his money's worth this time can begin.
To say that Glen Sather "did one hell of a job in the last month" isn't untrue, but it actually sells him a little short. Sather's turnaround, after all, didn't begin on July 1. (Last March, you'll recall, even the organizer of 2010's "Fire Sather" rally admitted to us that Sather had been doing a better job of late.) And look, we're aware that this team isn't perfect: As Lambert points out, except for acquiring Erixon (and letting Matt Gilroy leave), Sather didn't change his defensive corps. And that's not terrible, though it means they're still missing the offensive-minded defenseman they've been lacking for some time. (We suppose Michael Del Zotto could theoretically fill that role, but he didn't give us much of a reason to truly believe he could last year.) Sather, more or less, has his team for next year — and has the core of it locked up for a few years to come. He should be applauded for that, and he will be — if they keep improving, and compete for something bigger than a seventh or eighth seed. That's the big "if," though, isn't it?