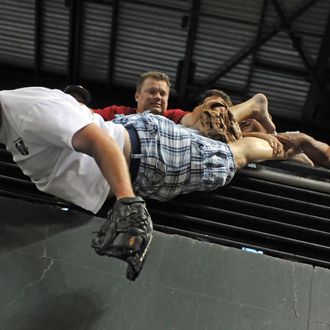 This man is very stupid.
Photo: Norm Hall/2011 Getty Images
Rangers outfielder Josh Hamilton spoke movingly yesterday of the anguish he continues to feel after a man died, in front of his young son, in Texas last week reaching for a foul ball Hamilton had thrown him. The story is still almost too sad to discuss. Last night, at the Home Run Derby, another man almost fell at Chase Field in Arizona, but this one was far more due to idiocy than a father trying to grab his son a ball. Keith Carmickle was standing on a table in right field, catching home run balls (he already had two, and he was wearing a glove) when, predictably, he tumbled over the railing trying to grab a Prince Fielder homer. The fall would have been about twenty feet, the same as the fall that killed the Texas man, but his friends grabbed him and pulled him to safety. Hardball Talk's Craig Calcaterra points out the quote that totally makes you feel this guy understood how close to death he was: "We caught three balls and I told the guys I was going to go for the cycle. Dude, they were really holding onto me." Sigh. We're going to find a way to blame Chris Berman for this.