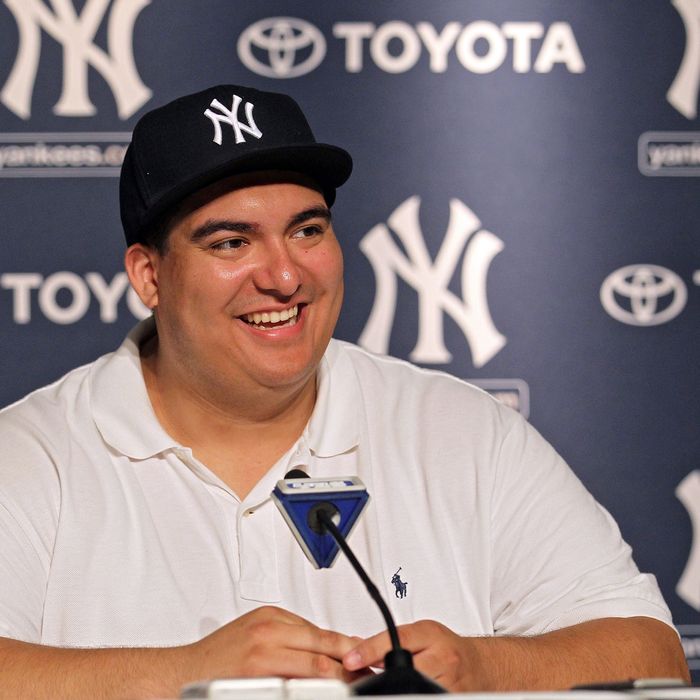 When Christian Lopez caught Derek Jeter's 3,000th hit, he returned it to the Yankees shortstop, instead of trying to sell it. (One estimate puts the value of the ball at between $100,000 and $250,000, but it could have been even higher.) Immediately, the Yankees gave him some tickets and memorabilia, and once word got out that not only did he owe more than $100,000 in student loans, but also may be on the hook for some $14,000 in taxes, companies began to step in for another round of gift giving. So how much are all these gifts worth?
• The Yankees gave Lopez four front-row Legends Suite tickets to last Sunday's game, as well as four Champions Suite tickets for the remainder of the season, including playoffs. SeatGeek crunched the numbers and calculated the face value of those tickets, for just the guaranteed-to-happen regular season games, at between $64,700 and $80,000, depending on the exact seat location.
• The Yankees also gave Lopez three Jeter signed bats, three Jeter signed balls, and two Jeter signed jerseys. A Derek Jeter autographed bat, from Steiner Sports, retails for $1,049.99. An autographed Jeter ball goes for $599.99. And an autographed authentic Jeter jersey sells for $1,049.99. Total value: $7,049.92.
• Yesterday, Modell's announced it would donate 5 percent of all Yankees merchandise sold through next Tuesday to Lopez, guaranteeing they'd give him at least $25,000 to help pay off his student loans. (Tax pros tell the Daily News that while the tickets the Yankees gave him could be viewed by the IRS as payment for the ball, gifts like this wouldn't be taxable.)
• Brandon Steiner, of Steiner Sports, also pledged $25,000.
• Mitchell Modell gave Lopez his 2009 World Series ring, because apparently the president of Modell's gets a Yankees World Series ring. The retail value of that ring would be in the range of $10,000, but the News reports that the actual value of a 2009 World Series ring is $40,000.
• And Miller High Life yesterday offered to pay his tax bill. A spokesman said that the company hasn't spoken with Lopez yet, but should he accept their offer, that would cover taxes that could reach $14,000.
• Plus, there are some experiences that don't have a cash value: Topps is producing a baseball card of Lopez that will be included in sets later this year. He's gotten to meet Jeter, Reggie Jackson, Mariano Rivera, Jorge Posada, and Jay-Z. And he was even photographed with John Sterling. Talk about priceless!
So the grand total (so far) of everything with a cash value: between $161,749.92 and $177,049.92 (with the taxes covered, if he takes Miller up on their offer), depending on the location of his seats. And that number could go higher if the Yankees reach the playoffs (meaning more free tickets), or if the Modell's donation ends up being higher than $25,000. Being a nice guy can really pay off, it seems.