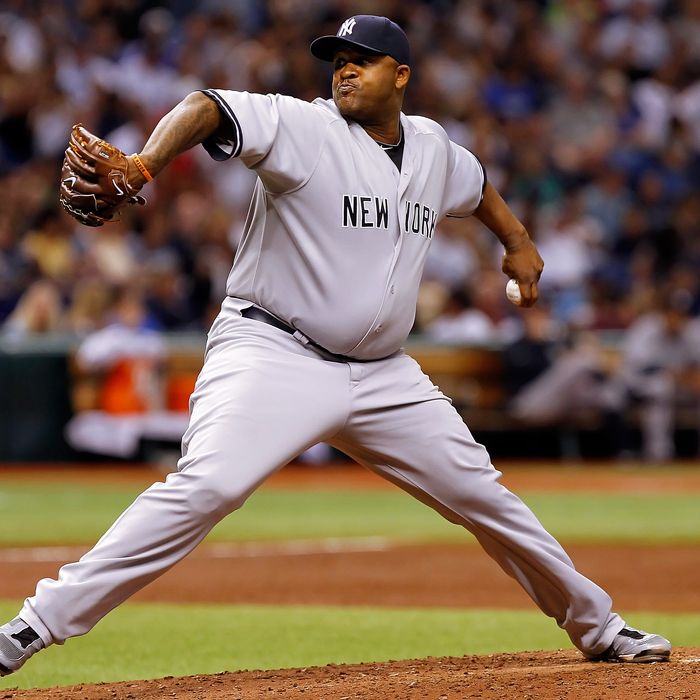 The last time CC Sabathia and James Shields opposed each other, in the final game before the All-Star break, the Yankees won 1–0, scoring their only run in fluky fashion thanks to a throwing error and a pickoff attempt gone bad. But last night, in the series finale at Tropicana Field, it was Sabathia who took the tough-luck loss, throwing eight innings of two-run ball but getting just one run of support. Not much of a 31st-birthday present for the big guy, is it?
Of course, by Sabathia's recent standards, allowing two whole runs is downright lousy: He hadn't allowed that many in more than a month. (Sabathia, the good teammate that he is, blamed himself, and not the Yankees' bats, for the loss: "Two mistakes by me and that cost us the game." The two mistakes he's referring to, by the way, were a first-inning home run from Evan Longoria and a fifth-inning RBI triple by Sam Fuld.) Of course, run support isn't usually a problem for Sabathia: The Yankees average 7.63 runs of support in his starts, even after totaling just two runs in his two recent outings against Shields. (That's the eighth-best run support in the American League.) Shields, on the other hand, is used to this sort of thing: The Rays have scored two runs or fewer in 10 of his 21 starts.
And so just like they did against Toronto in the first series after the All-Star break, the Yankees split the four-game set against Tampa Bay. Just as they were when the series began, they're 5.5 games up on the Rays. (The Angels are also 5.5 games back.) And the Yankees lost a half-game in the division standings, falling to two games behind idle Boston. Next up: a return home, where a three-game series with Oakland awaits. The close analysis of every last pitch that Phil Hughes throws resumes tonight.