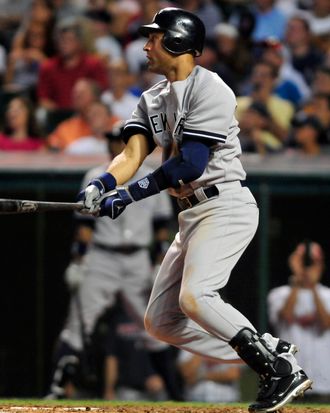 Derek Jeter, who began the day yesterday with 2,996 hits, did not get four hits last night. Then again, for a while last night, it looked as if the Yankees wouldn't get four hits as a team. And so while Jeter would pick up hit No. 2,997 in the eighth inning — and put himself in great shape to reach the milestone at home over the next four days — the Yankees would fall to the Indians, 5–3. Justin Masterson held the Yankees to no runs and just three hits over eight terrific innings, and the Yankees' rally in the ninth would fall short. For the first time since getting swept by Boston back on June 9, the Yankees have lost a series.
It's tough these days to steal the spotlight from Jeter, what with him approaching a major milestone that no Yankee has ever reached. But in the context of the Yankees'$2 2011 season, Phil Hughes's return to the rotation last night was noteworthy, too. Hughes's first inning didn't go well — it included a walk, three singles, and a wild pitch, plus a throwing error by Russell Martin that allowed the second of two runs to score — but he'd settle down a bit after that. He wouldn't allow another run, though he'd allow ten base runners in five innings of work: six hits, two walks, and two hit batsmen. Meanwhile, his velocity — the subject of much scrutiny earlier in the season, and again during his rehab stint — was better than it was back in April, but the speed of his fastball dropped as the game went on. So not a great night for Hughes, but, as was mentioned in the YES booth after his night was done, it was his best big-leadue outing of the year.
But back to Jeter, who, in a promising development, has two extra-base hits since returning from the disabled list. He's close enough now that even he's talking about reaching the milestone on this homestand. Said Jeter last night, about Yankees fans: "They care a lot about the history of this organization, so I anticipate them being pretty animated. I don't know, but I would think it would be kind of fun." One hopes that Jeter — the subject of plenty of criticism lately — does have some fun getting to the milestone. Because if ever there was a time to look back on his Hall of Fame career — while it's still happening, that is — this is it. Not when the discussion of whether he should bat leadoff inevitibly comes up again. Not when deciding whether he should win a Gold Glove at short. But now, as he approaches a historic career achievement. (For some impressive numbers about Jeter's place in history, by the way, we direct you to this piece by Jayson Stark.) Does Jeter sometimes get celebrated when he doesn't deserve it these days because of his reputation? Yeah, probably. But this is the time to celebrate him precisely because of how he built up that reputation — with a truly great career. Let's enjoy the final days of this chase as they happen.