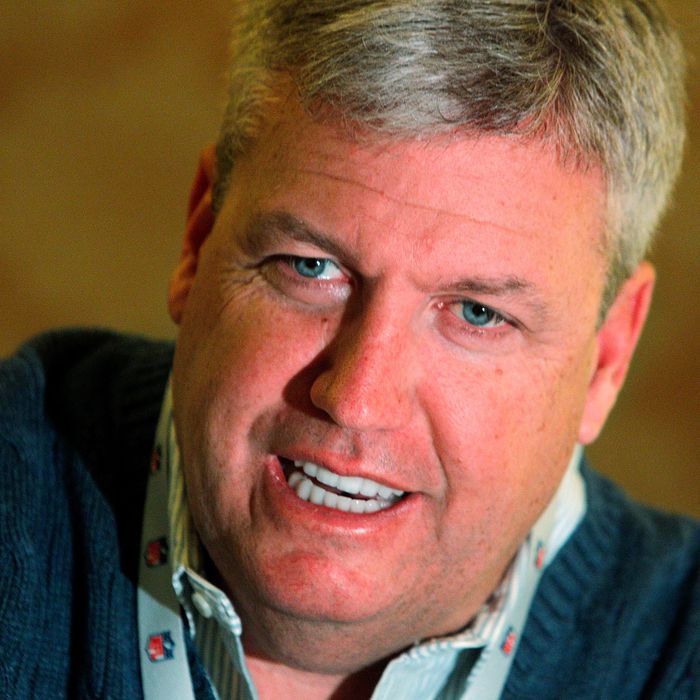 We were all excited today, because the lockout was supposed to be over. It was supposed to be over because the owners said it was over, because NYT News Alerts were sent telling us it was over, because dammit, it's almost August, it's time to start talking about football. But, predictably, yesterday's 31–0 owners vote to end the lockout was just yet another negotiating ploy, and this weekend is going to be a crazy one that, when it ends, might still not bring us any football. Alas.
Regardless: We had our minds set on giving you some football material, and darnit, we're gonna. So, pretend the lockout was settled this morning, or pretend you are reading this right after it was settled. Whenever that does happen, the NFL is basically going to cram two months of transactions into about six days. So we thought we'd preview that for you. We're going to take a look at both the Jets and the Giants today, what their major needs are, and whom they might be targeting. This would be more exciting to read had the lockout actually ended yesterday, but the needs and the targets will remain the same when it does end, if, in fact, it ever does.
So: the New York Jets, Rex Ryan's batch of loonies, a team that, amazingly, has reached the AFC Championship Game two consecutive seasons. Here's what they'll be looking at.
Secondary. Antonio Cromartie has already said he'll be giving the Jets no hometown discounts — the man has plenty of mouths to feed, after all — and, all told, the Jets might not pony up for the talented but inconsistent corner anyway. The primary targets may be the Steelers' Ike Taylor, the Bengals' Johnathan Joseph, or even the Raider's Nnamdi Asomugha, considered the best available CB out there. So much of the Jets' defense relies on Darrelle Revis and his counterpart: There are plenty to choose from, and everyone would love to play with Revis.
Wide receiver. Braylon Edwards, fresh off a career-rejuvenating season, could be gone. (It's him or Santonio Holmes. We'd rather have Holmes, ourselves.) But the Jets have lots of options and lots of guys who would relish the opportunity to go for a title. The most intriguing name: Randy Moss, who is supposedly in terrific shape and tends to step up his game when given a chance with a winning organization. Signing Moss is a very Rex Ryan thing to do.
Backup quarterback. We know, they need help a defensive end and outside linebacker, but honestly, a team that relies so much on Mark Sanchez needs a more capable backup than freaking Mark Brunell. The quarterback derby is going to be more furious than any other position in the first few days, and the Jets could score a castoff, maybe even someone like Marc Bulger. The Jets are going for the Super Bowl again this year, all-in, and too much is riding on Sanchez, who is always one missed blocking assignment away from disaster. It's worth addressing, anyway.
If this thing ever ends, anyway.