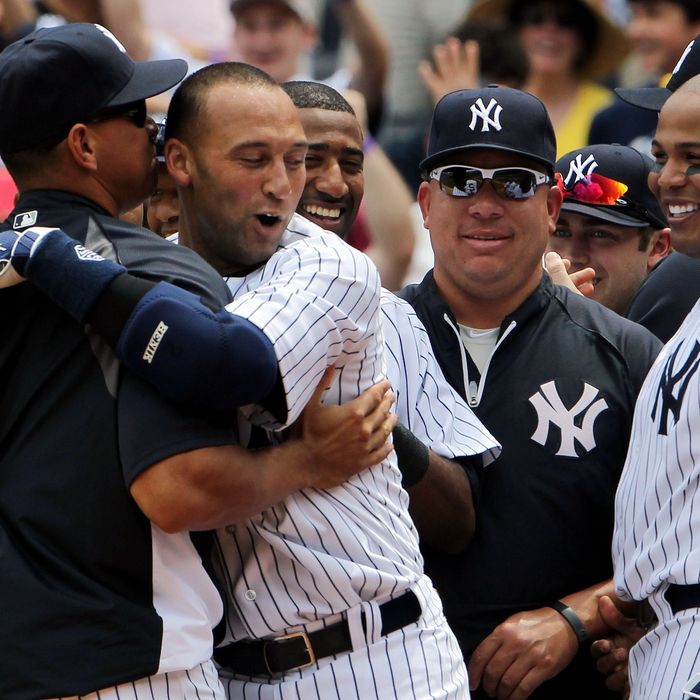 "History, with an exclamation point!" Or rather: History!
It's strange to think that a moment that we've been expecting for years could involve an element of surprise, but no one really expected Derek Jeter's 3,000th hit to come on a home run. (Some folks, with good reason, even said so explicitly last week.) Because no matter how much they might deny it, we'd imagine that the broadcasters covering the Yankees this weekend must have thought about what they'd say — or, as we'll see in a moment, not say — when the hit finally came, assuming the hit itself was unspectacular. A ground ball through the hole between short and third, for instance, or a line-drive single to the opposite field. So how did Michael Kay and John Sterling call the milestone hit — the one that didn't quite play out like anyone expected?
Let's begin with Kay's call. Two things of note: First, the "History, with an exclamation point!" line is pretty catchy, particularly since we're confident he hadn't planned that out in advance. And second, after Jeter crossed home plate, Kay wisely went silent for a minute and 44 seconds, allowing the stadium noise and the pictures onscreen to tell the story. It's a fine line between capturing what was really a pretty exciting moment and going overboard — any references later in the weekend to whether Jeter has a shot at 4,000 hits fall into the latter category — but as far as live play-by-play calls go, we give this one a thumbs up. Watch video of the call below.

Meanwhile, over in the Lowe's Broadcast Booth, John Sterling, like Kay, went through his usual home-run shtick before trying to capture the importance of the moment for listeners — though we'll note he left out his personalized "El Capitan" call. Sterling's call, which you can listen to here if the YouTube video below disappears, isn't especially loud or over-the-top, as far as John Sterling home run calls go. But we could do without the part where he starts listing other "milestones," to use his word: fifteen playoff appearances, twelve All-Star games, five World Championships. Besides the fact that two of those are team accomplishments (and none are really milestones), listeners don't need to be read Jeter's page from the Yankees media guide at this point. (It also seems more than a little pre-meditated.) Suzyn Waldman's contribution to the call, by the way: "A magnificent milestone for a magnificent Yankee."
And finally, if you were wondering what hit No. 3,000 sounded like from Jay-Z's box seat near third base, head on over to Vulture to see and hear that very thing.