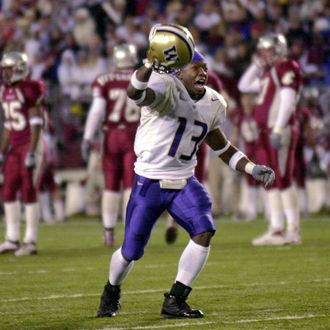 Nate Robinson, from his football days at Washington.
Photo: Otto Greule Jr/Getty Images
There are times that we wish we hadn't retired our patented Natrix back when the Knicks dealt Nate Robinson to Boston, but instead expanded it to include noteworthy happenings in the point guard's life, both on and off the court. There was the amusing clip of Nate standing outside a Celtics huddle while his coach screamed the word together half a dozen times. And the time Nate took this photo of a sleeping Shaq on the team bus. And even the occasional burst of scoring in the playoffs. Anyway, today is one of those times: In an interview with SLAM, Robinson says — "less than half-jokingly," according to the magazine — that he'd like to play football if the NBA lockout continues. (Robinson, it should be noted, played one season as a cornerback in college at Washington, so the five-foot-nine point guard has some experience on the gridiron.) Said Nate: "Why wouldn't you want to have an NBA player that can play football try out? That's a lot of publicity for your organization." Of course, as Ball Don't Lie has already poined out, Nate has chosen, during the lockout, to set his sights on another sport whose players are, you know, currently locked out. But don't let that stop you, Nate (and force you into a more conventional Plan B, like playing overseas). There's always the UFL!