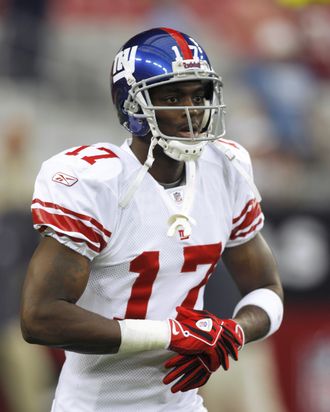 Plaxico Burress.
Photo: Tom Hauck/Getty Images
For a while, it didn't seem like there was much chance Plaxico Burress would return to the Giants. Sure, Jerry Reese had said over the winter that the team wouldn't rule out Burress's return, but there was also the report in which Gary Myers said he'd been hearing Burress didn't want to play in New York, and the quote from Burress's pal Brandon Jacobs last month when the running back said, in no uncertain terms, "There is no chance Plaxico Burress is a New York Giant after he comes home." There's not a lot of uncertainty in lines like this one from Jacobs: "He isn't coming to the Giants."
Now, though, it doesn't seem so impossible. Burress reportedly has interest in the Giants, and team reportedly has interest in him, too. (Even John Mara has acknowledged that the Giants have talked about bringing Burress back.) And so Burress is expected to meet with Tom Coughlin, perhaps as early as today, depending on what the rules of this abbreviated off-season allow them to do. (Via the Star-Ledger, Burress had expected to meet with Coughlin today at the Giants practice facilty, but he's not allowed to do that until Friday. What's not clear yet is whether Burress and the Giants can meet at another site before then.)
But regardless of when exactly they meet, and what Burress says to Coughlin, the fact that they're even willing to meet is noteworthy. (It was just last month, after all, that Burress was talking about his frosty relationship with Coughlin.) Coughlin had said last month that the Giants hadn't discussed signing Burress, but added "Never say never." Never say never, indeed.