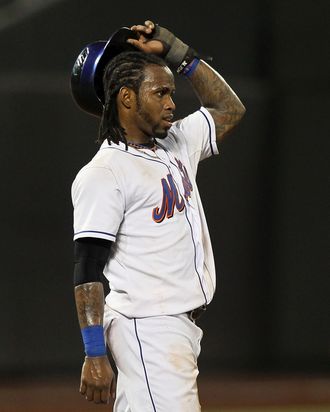 So here's the best news you'll read all day, Mets fans: Buster Olney tweeted today that, according to sources, the Mets "are now 100 percent certain" that they won't trade Jose Reyes before the July 31 trade deadline. Now, before attempting to start an officewide "Jose! Jose, Jose, Jose!" chant, remember that this isn't an official announcement from Sandy Alderson, but an anonymously sourced report. But still, it's the anonymously sourced report a lot of Mets fans have been waiting to read.
And the best part, assuming the report is true, isn't so much that it means Reyes will play out the rest of the season in New York (though make no mistake, it'll make things more fun to watch over the next two and a half months). It's that it could signal that the Mets believe that they have a real chance to sign him after the season. Look, we don't know exactly what kind of offers Reyes will get. Maybe some team will blow everyone else out of the water. (Also, he's reportedly told friends he'd love to sign with the Angels after the season. Make of that what you will.) But we've believed all along that if Sandy Alderson knew at the deadline that he had no chance to sign Reyes — if he knew that the organization's finances were so bad that he couldn't even put in a competitive offer — then he'd trade Reyes before the deadline and get back a nice haul, as unpopular as that would be.
But if the Mets really have decided they're not going to trade Reyes — despite their slim chances in 2011 — they must believe they have a shot to hang on to him. This was never really a question of whether the Mets wanted Reyes to be a part of their future. It was about whether they could afford to make that happen. And, unless those super-top-secret meetings have been making progress, we probably won't know whether they can until free agency begins this fall. But in the meantime, if this report is accurate, it gives fans reason to hope that the popular Reyes could remain a Met beyond this season. Ya gotta believe, right?