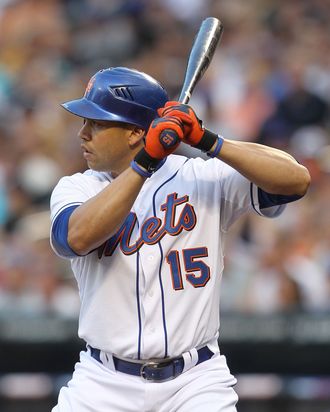 The major-league trade deadline is less than two weeks away, which means until July 31, you can expect a steady stream of tweets, anonymous sources, wild rumors, and maybe, just maybe, the occasasional piece of hard news. (It's actually more fun than that description makes it sound, though we suppose that depends not only on whether your team is a buyer or a seller, but how much confidence you have in your team's general manager.) In any case, Carlos Beltran figures to be at the center of lots of those tweets/rumors/reports, and over the last couple of days, we've learned (a) that the Yankees have reportedly engaged in talks with the Mets about Beltran, and (b) that the Yankees have reportedly ruled out Beltran. Believe either, or neither, of these things if you'd like. Though they both make sense.
The Yankees' offense has been generally productive this year: They're second in the majors in runs scored, second in on-base percentage, and third in slugging percentage. But we'd understand why they might want to address their DH spot. Jorge Posada, who'd raised his batting average 67 points in July, has seen it begin to drop again. (After posting a 1.007 OPS in June, his OPS for July is just .362.) And Andruw Jones, who's been mostly used against left-handed starters, isn't really a full-time option. Anything involving Posada puts Cashman in a delicate spot, but you can't blame him for at least considering upgrading at the position, with Beltran or another player, loyalty be damned. That Nick Swisher has stuggled this season would only increase Cashman's interest for Beltran, who could get starts in right, as well.
But it's also easy to see why the Yankees wouldn't want to be involved in this specific case, besides the fact that they might be hesitant to do business with the Mets in general. They couldn't simply use their deep pockets to steal Beltran: The Mets are reportedly demanding top-notch prospects in return and would be willing to pay the remainder of his salary to get them. And, thanks to a clause inserted by Scott Boras when Beltran signed the deal, if the team Beltran finishes the season with doesn't re-sign him, they won't receive draft picks as compensation. (Of course, that would have only mattered if the team he finishes the season with offered him arbitration, which could have been risky, anyway.) So it's unlikely Cashman would part with top prospects for a rental — particularly one who wouldn't address what could prove to be their most pressing need.
Meanwhile, if the Yankees decide they're in the market for a starting pitcher (and how Bartolo Colon pitches over the next couple of weeks will surely impact that decision), this seems like a good place to mention that the Rockies are reportedly asking for an awful lot in return for Ubaldo Jimenez: One report says they asked the Yankees for Jesus Montero, Manny Banuelos, Dellin Betances, and Ivan Nova. A lot can change over the next thirteen days, but if that's really what the market looks like, Cashman might just stick to the type of smaller, low-risk moves he made at the deadline last year.