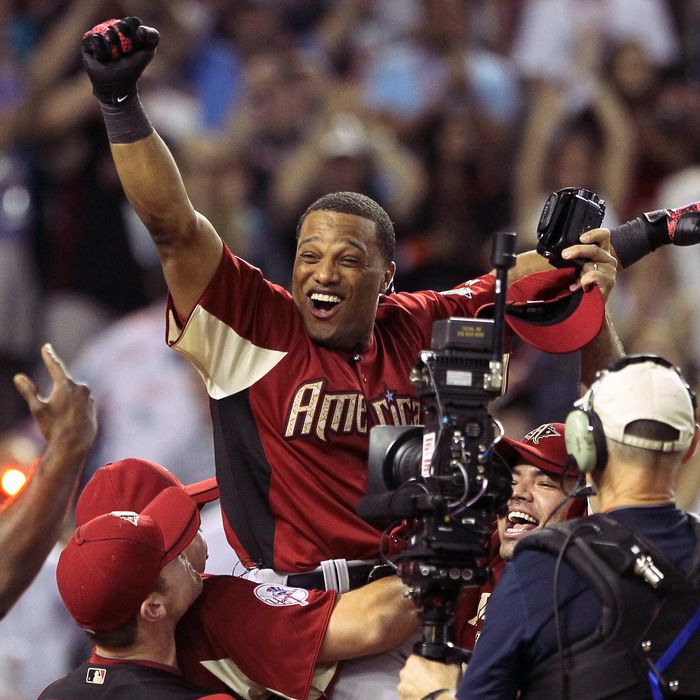 Last year, Robinson Cano was scheduled to take part in the Home Run Derby, but the Yankees convinced him to pull out of the field because of a bad back. But even before that, hitting coach Kevin Long said he'd prefer Cano not take part ("History suggests that guys that do the home run hitting contest get fatigued and exhausted from the process"), and Joe Girardi didn't seem wild about the idea, either. But Cano was asked to particpate again this year, and this time Long gave him the green light. Said Cano at the time of his selection, on whether he had a chance to win: "Why not? Of course. The best thing is to win it. If I'm there, you never know."
And, don't ya know, the Yankees second baseman did indeed win the Home Run Derby last night, slamming twelve home runs in the final round to defeat Boston's Adrian Gonzalez. It was a two-man contest all along, with Cano and Gonzalez jumping out to a lead in the first round, adding to their impressive totals in the second, and finally squaring off in the finals. And though events like this are meant to be fun for the fans, we're not sure anyone enjoyed themselves last night more than Cano himself, who had his father, Jose (who threw 23 innings for the Astros in 1989), serve as his pitcher.
Said Cano, who became the third Yankee to win the Home Run Derby: "As a kid, you dream to be up here with a bunch of guys that you watched back in the day, like Sosa, Griffey, McGwire, Giambi, how much fun they have." (Cano, by the way, was 11 years old when Griffey won his first Derby title. In related news, we are all getting old.) The coming weeks will tell us whether participating in the Derby will have any effect on Cano and his swing, as Long suggested it might last year. (For the record, Cano apparently does this sort of thing in batting practice all the time.) But history also tells us that Derby winners tend not to show off their power in the Midsummer Classic itself: Only three winners have ever gone deep in the following day's All-Star Game, and none have since Garret Anderson homered while winning the MVP back in 2003.