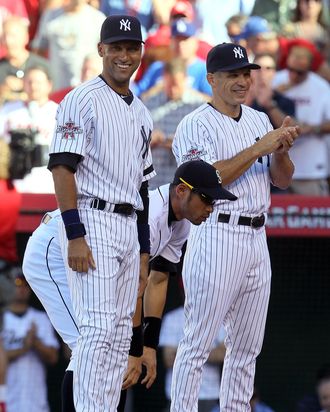 Jeter at last year's All-Star Game.
Derek Jeter — as you surely know by now, perhaps because of the Daily News' invisible-Jeter back page this morning — won't be in Arizona for tonight's All-Star Game. We've known for a few days that Jeter — who returned from the disabled list a week ago yesterday and played in every Yankees game since — wouldn't play in the actual game. But a Major League official, as well as some players, have criticized his decision not to at least attend the game. (Fox Sports reported today that Jeter won't attend the game due to "emotional and physical exhaustion.") Are those critics right, though?
Here's a line from the Daily News, paraphrasing that anonymous baseball official on what the league hoped Jeter would do:
"Derek Jeter has done everything right during his whole career," a major-league official said. "He was wrong on this one."
Out of context, this would be more than a little absurd: Fly across the country, tip your cap, smile, and go back home. (Even Bud Selig said today that he probably would have made the same decision that Jeter did.) But not everyone is on Team Jeter here: Lance Berkman said yesterday that he believes players who are selected to the team have an obligation to be there, and he's not alone. To some degree, this isn't a debate about Jeter, but about what being selected to the All-Star team means in the first place: Is it simply an honor for the player, as in the case of CC Sabathia, who was picked even though it was known at the time he'd have to be replaced? Is physically attending the game, whether you play in it or not, part of the deal — a treat for fans who get to see the league's brightest stars in one place? Or is all this simply about fielding two teams for a game that, for some silly reason, now counts for something. That's a more general discussion that didn't begin with Jeter.
But that it's Jeter skipping the game, and especially that Jeter is skipping an All-Star Game so soon after getting his 3,000th hit, is what's turned this into a mini-controversy. Here's a quote from that league official, from the Daily News article:
"Derek Jeter has done everything right during his whole career," a major-league official said. "He was wrong on this one."
And that's a telling line. Whether it's fair or not, we demand that Jeter always make the "right" decision, if only to bolster his reputation as someone who does everything right. He may have earned that reputation by, you know, generally doing things right, but we're the ones who celebrate it. Look, Jeter wanted a few days to rest, on his own terms, and if ever he deserved them, this would be the time. (If you're curious of his whereabouts, by the way, he was apparently spotted in Miami with Minka Kelly.) And though we're sure baseball would have liked to acknowledge Jeter's 3,000th hit tonight, we're not going to criticize someone for depriving the league of the chance to honor him. Perhaps the "right" move would be to attend this game, if only because it would have avoided this particular mini-controversy. But are fans really going to be upset that Jeter won't tip his cap tonight? Or are we just not used to Jeter making an unpopular decision, even if it's one he's got a reasonable right to make?