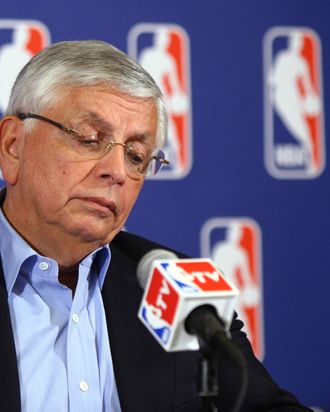 Photo: Neilson Barnard/2011 Getty Images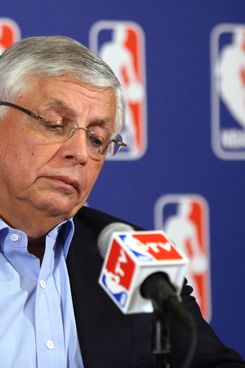 It is fixed now, but for about eight hours yesterday, this is what NBA.com looked like. Sort of Geocities crossed with Grantland, we think, with more WNBA MVP race updates. It was the first vivid reminder that the NBA lockout was on: Now the sides don't have to play nearly as nice.
Doug Farrar of Yahoo's Shutdown Corner blog helpfully provided some tips for basketball writers, from a football writer, on how to stay entertaining and informative during your sports' lockout. We're not going to get into the details of the dispute here, because that's boring, because everything is a negotiating ploy, because the owners are totally the bad guys in the first place. (Owning a sports team has always been a vanity play, one that helps boost other businesses a CEO might own but isn't supposed to be guaranteed to make a profit on its own, though it usually does anyway, even when they lie and say it doesn't.) Instead, we'll just sporadically update you with how the talks are going.
And we can tell you they're not going at all, at least for a couple more weeks. That makes something anticlimactic about the announcement of a lockout: The two sides aren't even going to talk for a fortnight, so the lockout is guaranteed to last at least that long. And much longer, of course. There's a school of thought that this won't truly come close to being resolved until November, when players start missing checks. (Most players are paid every two weeks during the season; they wouldn't be getting checks over the summer anyway.) November, of course, is the month the season starts. Which means it's possible neither side will get serious about negotiations until games are already being missed. Fantastic. As Yahoo's Adrian Wojnarowski put it, "These fights are always about one thing: pain tolerance."
So, everybody kick their feet back and relax. This lockout is going to last a couple of months before anyone even starts talking to one another. At least that's gonna give Carmelo Anthony more time to secretly rehab his elbow. There is that.