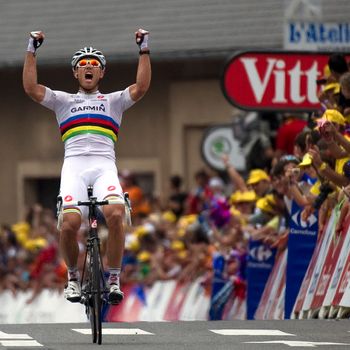 Thor Hushovd crossing the finish line today.
The big picture didn't change much in the Tour today, but it was an eventful and even emotional day nonetheless. Thor Hushovd, a sprinter having the best Tour of his career, took a mountain stage against all expectation, but doing so meant crushing the dreams of 28-year-old upstart Frenchman Jérémy Roy, who'd led the race until two kilometers from the end. C'est la vie, eh?
Of the Pyrenees stages, this one, Stage 13, was the least strategically significant. It had a giant mountain in the middle, the HC climb up the Col d'Aubisque, and finished with a 29.5 kilometer descent and thirteen kilometers of flat terrain leading into the Catholic mecca of Lourdes (where the water is allegedly curative and the Virgin Mary is said to have appeared in 1858). This is the kind of stage that lends itself to an early breakaway, with riders hoping to go solo over the single big climb and somehow survive that long descent without getting caught. As such, it's not predictable enough to be contested by a pack of GC contenders, like yesterday's summit finish or tomorrow's incredibly hard Stage 14—which will feature seven categorized climbs, including an HC mountaintop finish up the sixteen-kilometer Plateau de Beille.
Still, no one expected a big ol' sprinter like Hushovd to be the guy who'd win this one. He weighs more than most good climbers, for one, and for another, he's not supposed to be trying to win this kind of stage. This is the part of the Tour where sprinters just grit their teeth and try to come in under the time limit for getting kicked out of the race.
Today's stage started with a foreshadowing of doom in the form of an extremely large number of vultures gathered on the hillsides in the 91 kilometers before the Col d'Aubisque. Someone had spread out food for them, and announcer Paul Sherman joked that riders needed to be wary of falling off the back of the pack. The birds' metaphorical prey turned out to be Team RadioShack's Andreas Klöden, who'd injured his lower back during a crash in Stage 9 and pulled out of the Tour after an hour of riding today, looking like he could barely walk from his bike to the team car. Klöden's departure follows teammates Chris Horner and Janez Brajkovic, who pulled out after crashes, and Yaroslav Popovych, who pulled out after a crash and a fever, and leaves RadioShack with only one of its initial four leaders—and only five men total—still riding.
Early on, Jérémy Roy initiated an early break of ten riders that included Hushovd — who is the reigning World Road Race Champion and who'd worn the yellow jersey from Stage 2 to Stage 9 this year. Going up the Col d'Aubisque, Hushovd charged ahead, only to have Roy and fellow Frenchman David Moncoutie chase him down and pass him. Roy topped the summit 45 seconds before Moncoutie and two minutes ahead of Hushovd, gaining enough points to take the lead in the King of the Mountains contest. Roy descended well, but couldn't hold off Hushovd on that thirteen-kilometer flat to Lourdes, and 2.2 kilometers from the end, Hushovd powered past Roy, gaining so much distance so quickly that it looked like the little Frenchman had stopped pedaling altogether. As Hushovd approached the end, he kept looking around him, seemingly in disbelief that he was actually about to win. Assured he was alone, Hushovd raised his arms and crossed in triumph. It's his ninth career TDF stage win, but very likely his most cherished, since it's the one no one would have thought he was capable of winning. Moncoutie followed ten seconds later, then a heartbroken Roy, 26 seconds back, fighting off tears, shaking his head, and pounding his chest as if he were sticking a knife in it. He got the KOM jersey, but a stage win remains elusive.
Tomorrow, the brutal seven-climb Stage 14. Thomas Voeckler will start the day in yellow, but he will almost certainly not end the day in it.