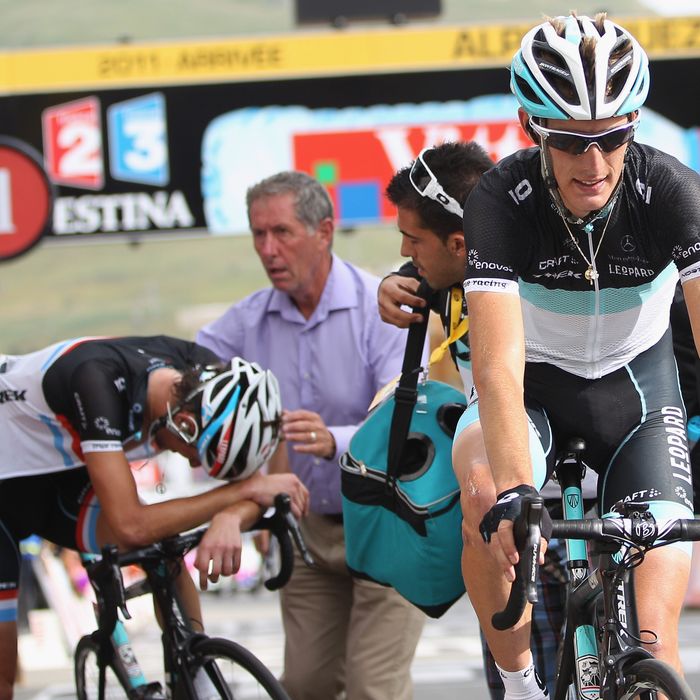 Andy Schleck, on the right.
Advocates for clean bicycle racing now have a trump card: Today's thrilling stage up L'Alpe d'Huez, and indeed this entire Tour de France — the most exciting Tour in years. Are all of these guys clean? We can't know for sure. But the human-size efforts of valor we've seen this time around make the superhuman performances of years past (see Alberto Contador's first TDF win in 2007, over Michael Rassmussen, who got kicked out for shady behavior, though not — officially — for doping) seem, well, dirty. 
Regardless of whether you think Contador doped in the past, he almost certainly seems to be clean now. He's a fallible human. He had those many, many crashes in the first two weeks; he spent his legs winning the Giro d'Italia so decisively; he has the weight of a looming doping decision that may strip him of last year's title and would have stripped him of this year's, too, had factors one and two not left him 3:55 out of first place. And yet today he rode like a man who still thought he could win, coming away with a red number for being the most aggressive rider of the day.
Today promised to be full of action from the start; it was only 68 miles long and contained three major climbs, including a summit finish at the top of L'Alpe d'Huez, the most famous climb of the Tour, on the 100th anniversary of the Alps' inclusion in the race. Not only was there huge glory to be had with the stage win, but every single jersey — yellow, white (best young rider), polka dot (King of the Mountains), and green (sprinters, though there was question if any of them would make it in under the time cutoff) — remained undecided.
Contador started attacking on the first climb of the day, the Category 1 Col du Télégraphe, accompanied by two teammates, as well as Cadel Evans, Thomas Voeckler, and Andy Schleck, who at that point was just fifteen seconds out of first place. The pace Contador set was so brutal that these were the only riders able to match him; Andy's brother Frank, in third place, fell back to the Peloton. Then Contador attacked again. This time, he dropped Voeckler and Evans. Evans subsequently had the most unfortunate mechanical issue of his life and had to change bikes. It took nearly a minute for him to sort it out, and by that time, the Peloton had caught back up to him.
That attack will go down as the moment Thomas Voeckler lost the Tour de France. But, man, did he fight hard, as announcer Paul Sherman said, "reaching into his suitcase of courage" again and again. All the rest of the climb, he rode solo between the Contador-Schleck lead group and the Peloton, unable to find the power to catch up with his rivals, but refusing to heed the death knell of the Peloton behind him. And he continued to do so as they descended that climb and headed toward the HC Col du Galibier. (Fun fact: Yesterday's stage ended atop the Col du Galibier, and this climb was up the other, harder side. Most of the riders had ridden down today's climb at the end of yesterday's stage.)
As the lead group hit the Galibier, Voeckler was only twenty seconds behind them, and nearly a minute ahead of the Peloton, and if he could have reached the lead five riders, he would have stood a chance of holding onto his jersey because it would have made him even with Schleck once again. But after maintaining a 30-second gap for most of the Galibier, he lost it on the steep part. By the time the chase group, led by Evans, caught him, he looked like he was standing still.
The chase group continued on. Seconds after they caught Voeckler, Samuel Sanchez went off the front, chased by Evans, Frank Schleck, and Pierre Rolland, a 24-year-old Frenchman and teammate of Voeckler who'd apparently been given blessing from his team to stop working for Voeckler and start looking out for himself. Sanchez crested the summit first, followed by Evans, about 45 seconds behind Contador and Schleck. On the descent, Sanchez caught up with Contador and Schleck. Then Evans's group merged with them, too. You know Contador and Schleck must have been wondering if they'd just risked everything for nothing, with L'Alpe d'Huez still looming ahead.
On the flats just before reaching the start of the 21 switchbacks that lead to the top of L'Alpe d'Huez, Rolland made a move, clearly prepping himself to try for the stage win. The Canadian rider Ryder Hesjedal followed and soon caught Rolland. Neither man had a chance to win overall, so the group let them go and slowed down to get water and rest.
Rolland and Hesjedal hit the climb first. Seconds later came Evans and the rest of the big guns. And just what seemed like seconds after that, Contador attacked yet again. This time, he looked like old Alberto Contador, able to gap the Schlecks and Evans with just a few pedal strokes. He quickly caught Rolland and Hesjedal. Rolland managed to stick to his wheel, but Hesjedal was cooked. Schleck seemed to be conversing with Evans, asking him to help chase down Contador, but Evans refused; his only objective was to never let Schleck out of his sight, perhaps believing that if he could keep their time difference low, he'd be able to blow Schleck away in the time trial.
With ten kilometers of brutal uphill riding to go, Contador was the sole man out front, having built a small lead over Rolland and Hesjedal and a lead of 38 seconds over Andy Schleck and Evans, who at this point had been joined by Frank Schleck and Samuel Sanchez. Frank was relatively rested and able to take the helm and drive the pace. Voeckler was now 2:40 back with virtually no hope of winning, let alone making the podium.
Accompanying the riders were an estimated one million fans, many of whom had been camping along the road for days, and who, wrapped in various flags, would run alongside the riders, making it hard for them to maneuver their bikes and likely ruining their gritted-teeth concentration. With four kilometers to go, Contador had built over a minute's lead on Schleck and Evans, and it was looking like this man who had started the day in seventh place might just be fighting his way back onto the podium. Then Sanchez and Rolland caught him, and this is where Contador lost whatever advantage he had. Instead of continuing to pound his pedals and ignoring these buzzing mosquitoes around him (even though Sanchez is a fellow Spaniard and dear friend), he checked to see if they'd work with him. And during the discussion, their pace slowed.
Neither of those guys wanted to help out. Sanchez, unlike Contador, had given up on the podium and the yellow jersey, despite them having a relatively similar standing to Contador. Instead, Sanchez had decided that morning to go for the King of the Mountains jersey, and to win it, he needed to cross the summit finish if not first, close to first. And Rolland was tantalizingly close to the first stage win of his professional career — and not just any stage win, a win on L'Alpe d'Huez on the 100th anniversary of the Tour in the Alps that would be the first stage win by a Frenchman in the 2011 Tour. For them, Contador's objective of gaining time on Evans and Schleck was not a motivator
So Rolland attacked, at the same time that, a minute behind them on the hill, Evans was attacking Schleck, again and again. Rolland broke free, with Contador and Sanchez chasing furiously behind, and won the stage, along with the white jersey for the best young rider, which he'll likely keep to Paris. He was followed by Sanchez at fourteen seconds behind — which secured the polka dot jersey for him — then Contador at 23 seconds behind. Evans got nothing on Schleck; they finished even at 57 seconds behind Rolland. A large group of sprinters, including green jersey holder Mark Cavendish, rolled in 26 minutes later, just a minute before the time cutoff for being kicked out of the race.
And now, coincidentally, 57 seconds is all that stands between Cadel Evans and being the first-ever Australian winner of the Tour de France. That's how far behind Andy Schleck he is; he's also got to vault over Frank Schleck, who is 53 seconds behind Andy. It all comes down to tomorrow's 42.5-kilometer individual time trial at Grenoble. Surely Cadel Evans wishes his time gap were smaller, but he is fully capable of making up that much time, especially against the Schlecks, who are not amazing at time trials. By contrast, Evans is quite good at time trials; in 2007 he nearly unseated Contador from the yellow jersey when he gained back 1:27 on the Spaniard (who is a great time-trial rider) during the ITT. Plus, Evans rode this course earlier this year during the Critérium du Dauphiné, where he came in sixth, while climbers of the same body type as the Schlecks were at least a minute behind him. It's going to be nail-biter. DO NOT MISS IT.