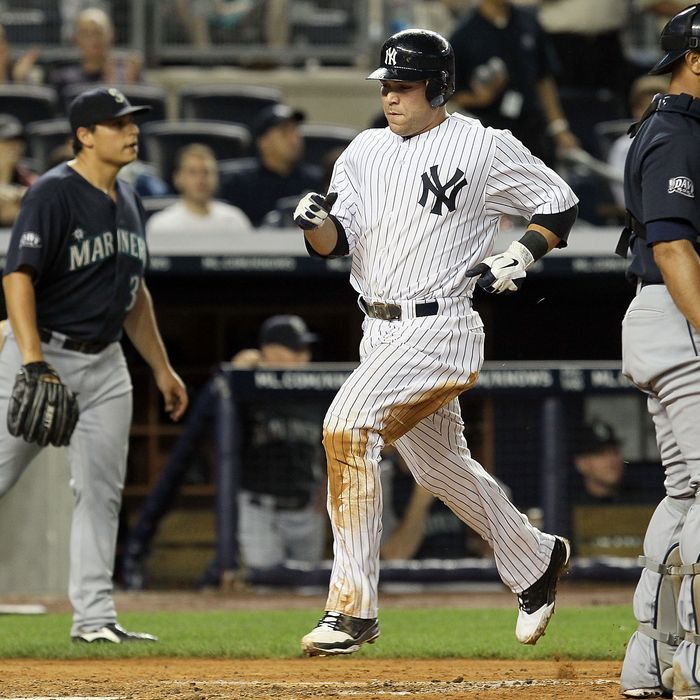 It's not every day you get to see a team that's lost sixteen straight baseball games, as the Mariners have following last night's 10-3 loss to the Yankees. But last night went pretty much how we'd expect a game involving a team on such a long losing streak to go. The Mariners fell behind early; later on, they'd allow four unearned runs thanks to two errors; and, with all due respect to Freddy Garcia, their bats were mostly quiet. Add in some bad luck — how often do you see an infielder's throw home hit a bat and bounce away? — and a couple of questionable calls, and yeah, we'd imagine it's not a lot of fun to root for, or play on, the Seattle Mariners these days. They can't even enjoy the comedic stylings of Conan O'Brien on the clubhouse TV after the game. These are tough times indeed.
What's especially bizarre about Seattle's losing streak is that when it began, they were a .500 team: Following the games of July 5, they were 43-43, two-and-a-half games out of first place. But they haven't won since, and tonight, they'll face CC Sabathia, who's been on such a roll these last few weeks that his last outing (in which he gave up two runs in eight innings) qualified as a relative disappointment. Seattle's due to win a game eventually, because no baseball team should lose this many games in a row, but that's hardly a pitcher they'd want to face while their season spirals out of control. Then again, as we're reminded on a nightly basis during the Yankees radio broadcasts, you can't predict baseball. Which is true, we suppose. Teams that start 43-43, after all, aren't suppose to go some three weeks without winning.
But back to the Yankees for a moment. Last night's game was their 100th game of the season, and the win was their 60th of the year, giving them a nice, clean .600 winning percentage. And Boston, the team responsible for losses thirteen through fifteen of the Mariners' current streak, fell to Kansas City in fourteen innings, moving the Yankees within two games in the East. The trade deadline is Sunday, and after that, the calendar turns to August. These should be a fun couple of months. Unless you're a Mariners fan. A losing streak like this can really suck the fun out of a season.