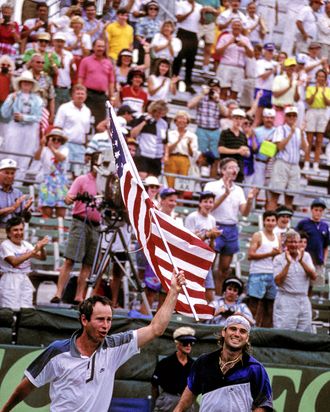 John McEnroe and Andre Agassi after winning the 1992 Cup.
To those in thrall to full-on Wimbledon withdrawal — I know you are legion — the Davis Cup and its dilute methadone are here to help: Today the United States begins its quarterfinal tie versus Spain in Austin, Andy Roddick's hometown. The raucous sellout crowds will surely boost a U.S. squad (also featuring Mardy Fish) in transition under the infant reign of captain Jim Courier, who debuted in March after taking over from longtime chief Patrick McEnroe. And yet nothing that transpires on court this weekend will likely do much to address the Davis Cup's fundamental identity crisis, which causes it to fly under the radar year after year, a victim of seemingly capricious scheduling, elite-player disdain, and media indifference.
The casual tennis fan unused to following the Davis Cup might well wonder why one of its key phases follows so soon on the heels of tennis's greatest showcase, playing Pro Bowl to Wimbledon's Super Bowl. Rafael Nadal wants to know, too — he capped a recent press conference, in which he announced he would not be joining the battle against the Americans, with an uncharacteristic tirade against the International Tennis Federation, the Davis Cup's governing body: "I cannot be competitive every week of the year. My body needs to rest."
High-profile no-shows have been the bane of the Davis Cup since the professionalization of tennis in 1968. The Cup's quarterly structure — its four rounds are evenly spaced throughout the year — ensures that its spring and summer installments bump up against the set-in-stone Slams, forcing top players to make invidious decisions. Pete Sampras was notorious for blowing off the Davis Cup in pursuit of individual glory, but virtually all the top players have done so repeatedly over the course of their careers. The exception, at least in American tennis, was John McEnroe, whose rah-rah enthusiasm for the Cup as a player went a long way toward revitalizing it in the eighties. But as U.S. captain — he lasted just over a year back in 1999–2000 — McEnroe was an abject failure, unable to persuade Sampras and Co. to choose country over Nike.
McEnroe has also been critical of the ITF for its ineptitude in marketing the competition, suggesting a change in format would broaden its appeal. He's not alone: Last year, the ATP Player Council, on which tennis's reigning triumvirs Nadal, Djokovic, and Federer all sit, submitted a proposal to the ITF for radically restructuring the Davis Cup. The idea was to condense it into a ten-day, World Cup–style biennial blowout with 32 countries competing. Continuing with the soccer analogy — by way of the WWE — the proposal aims to turn tennis into a true team sport by requiring that every match feature at least two players from each side. That's right, people, tag-team tennis! Are you ready to rumble? The ITF isn't. So far nothing has changed.
Of course, such a comprehensive rebranding risks hitting that sweet spot of marketing futility: alienating the purist with hated innovations yet still failing the cool test with the casual fan. But by attempting to import the team concept into actual on-court play, the proposal is at least wrestling honestly with the paradox of trying to form a collective in this most individual of sports. Tennis, after all, as Andre Agassi put it, "is so damned lonely."