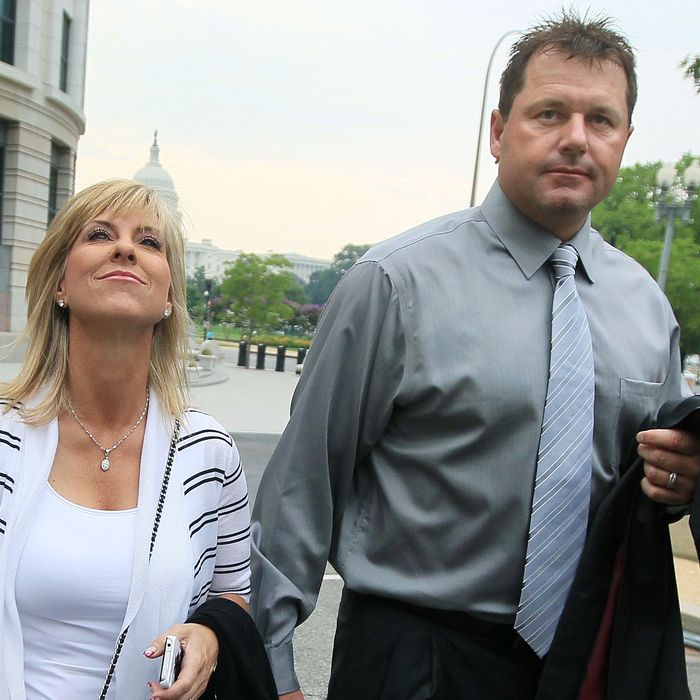 The trial of Roger Clemens — officially, it's the United States v. William R. Clemens — begins today in Washington, and is expected to last between four and six weeks. So what can you expect? Some questions and answers, below.
What charges is Clemens facing, exactly?
He's facing six counts in all: one count of obstruction of Congress (in question are statements given by Clemens to the House Committee on Oversight and Government Reform in 2008 that prosecutors contend were false and misleading); three counts of making false statements to Congress (in which Clemens in charged with lying to Congress when he denied using H.G.H. and anabolic steroids, and when he said that former trainer Brian McNamee injected him with B12); and two counts of perjury (in which he's charged with lying under oath by saying that McNamee never gave him H.G.H., and by saying that he never took steroids as a player). Clemens has denied the charges. Each count carries a maximum sentence of five years in prison.
Has anything already happened?
Yes. On June 23, U.S. District Judge Reggie Walton ruled that the authors of the Mitchell Report must hand over notes of their interviews with Clemens's accusers. The notes were taken when investigators questioned McNamee and steroids dealer Kirk Radomski. (Unlike in the Barry Bonds trial, where the slugger's trainer refused to testify, McNamee is the prosecution's leading witness.) And Walton held a pre-trial hearing yesterday to consider what jurors will learn about McNamee when the trial itself begins. Clemens's defense team wants to introduce allegations that McNamee drugged and raped a woman while on a trip with the Yankees in 2001. (McNamee, who has not been charged, has said he was trying to rescue the woman from drowning.) Clemens defense team intends to argue that McNamee was worried that the rape investigation could cost him his job with the Yankees, and came up with plan to blackmail Clemens into giving him a job. Walton said he won't make a decision on whether to allow the those allegations to be mentioned until the trial is under way.

Does any of the government's evidence show how Miller Lite beer cans have changed over the years?
Why yes! Via the Daily News, which describes some of the exhibit items made public last week:
A photo of the Miller Lite beer can that McNamee used to store used needles is included, as well as a photo of the beer can designs by year, to verify the year McNamee says he began keeping the waste (approximately 2001).
Will a lot of ex-ballplayers be testifying?
Possibly, though via the Post, Walton is also waiting to decide whether Andy Pettitte, Chuck Knoblauch, and Mike Stanton can testify that they received performance-enhancing drugs from McNamee. But he did say it would be "extraordinary" to allow such testimony, and made reference to his own days as a college football player, when he received cortisone shots from a trainer: "I would not want to be held responsible for doing something inappropriate based on what that trainer was giving to other people." (That doesn't mean they couldn't testify at all; the judge just hasn't decided whether to allow testimony about recieving performance-enhancing drugs from McNamee.)
Andy Pettitte's pretty important to all of this, isn't he?
He is. According to the Times, he's the only former player on the prosecution's witness list who is expected to testify that Clemens acknowledged using PEDs. And that's sure to produce an uncomfortable scene in the courthouse, particularly since we already have a sense of what Pettitte might say: Back in 2008, in lieu of testifying in front on Congress, Pettitte provided a sworn affidavit in which he said that Clemens once told him he'd used H.G.H. (In a later conversation with Clemens, the Rocket told Pettitte that he must have misunderstood him.)

So when can we expect opening arguments?
Probably not until early next week. First comes jury selection, which begins today.