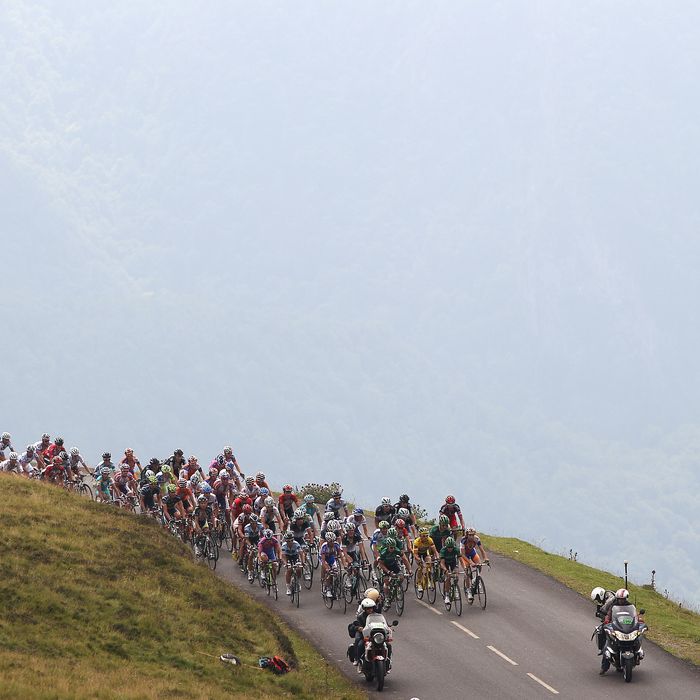 After today's thrilling Stage 14, we know the following: No one looks unbeatable; this is still anyone's race; and the Alps are going to be a fight to the death.
It was a little disappointing that nothing changed in the overall standings on today's brutal ride, but even so, it was pretty entertaining to watch. With seven categorized climbs over 168.5 km, Stage 14 provided multiple chances for riders to get away from the pack and gain time and points, and pretty much everyone wanted in on the action. Particular pressure came from the fact that each of the previous four times the TDF has ended at the top of Plateau de Beille, the winner of that stage has gone on to win it all. That legendary streak ends today, given that today's winner, 26-year-old Belgian Jelle Vandendert (Omega Pharma-Lotto), is 12:06 behind race leader Thomas Voeckler. Voeckler, meanwhile, keeps holding onto that yellow jersey far beyond expectation, and none of the major contenders — Alberto Contador, Andy Schleck, Cadel Evans — seems to have the legs to counteract his tenacious determination.
The attacks started just 2 km into the race, with the first serious break coming at 8 km, with twenty riders, including 40-year-old bruiser Jens Voigt, who's so popular that when he opened a Twitter account on Monday's rest day he had 35,000 followers within 24 hours. A chase group of seven soon followed. Four of those riders caught up, bringing the break to 24. Then at 87 km, three men — including big names Sandy Casar and David Millar — jumped off the front of the break, turning the former lead group into a chase group. Then a lone rider, Euskaltel's Izagirre Insausti, struck out in front of everyone else up the second-to-last climb, Port de Lers. The chasers, including excellent climber Luis Leon-Sanchez, attacked each other in the valley before the final climb up Plateau de Beille, and finally caught Izagirre Insausti 24 km from the end. Back at the peloton, the Schleck brothers' Leopard-Trek team started pounding away at the front, quickly closing in on the breakaways, absorbing Voigt (who's also on Leopard-Trek and immediately started working alongside the Schlecks before finally popping off the back 12.5 km from the end) and setting a pace that shredded the main group down to about 25 elite riders.
This wouldn't be the legendary Tour de Crash without a few more scrapes to add to the toll. On the descent of the Category 1 Col d'Agnes, Laurents Ten Dam (Rabobank) underestimated a corner and flew over his handlebars, breaking his nose. He kept riding. And toughest man in the Tour Jens Voigt also underestimated a corner and flew off the road onto a grassy slope on the descent of the second-to-last climb, Port de Lers. He got back on, only to hit the pavement hard again when his front wheel slipped out from under him on another hard downhill turn. 
As the peloton began the 15.8 km, 7.9 percent grade (10.8 percent in spots) climb up Plateau de Beille — which can take up to 45 minutes, even with how fast these guys ride — only Sandy Casar remained out in front with a 1:49 lead that dwindled swiftly. Andy Schleck was looking strong and determined; and sure enough, with 10.5 km to go, he attacked. Contador was right on his wheel, along with Cadel Evans, Frank Schleck, dark horse Ivan Basso, and the indefatigable Thomas Voeckler. Half a kilometer later, Andy Schleck attacked again, and once again, Evans, Basso, and Voeckler were right there with him. Contador struggled, but he made it back. Schleck attacked again; again Voeckler and Evans responded. Contador eventually made it back up with the rest of them. Frank Schleck attacked, and Evans, Basso, Voeckler, and Contador were right there. Andy Schleck attacked again, and again all the same guys were right with him, including Vandendert, who came seemingly out of nowhere and shot ahead to go for the stage win.
Vanendert quickly caught Casar and screamed past him. Voeckler took control of the main group and staved off attacks from Basso and Damiano Cunego, who's having a terrific Tour. Samuel Sanchez, winner of the first Pyrenees stage, took off, then Basso attacked, then Evans. Each time, Voeckler and the gang were right there, with only Sanchez getting a chance to break away and try to gap Vanendert. Vanendert held on to win the stage and the King of the Mountains jersey, finishing 21 seconds ahead of Sanchez, who finished 25 seconds ahead of Andy Schleck, who'd launched one final attack in the last kilometers as if to just prove his legs were better than everyone else's.
Schleck's legs, though, apparently aren't THAT great. Or at least they're no greater than those of Cadel Evans, who is nine seconds ahead of him, or the surprisingly strong Ivan Basso, who is only a minute behind him. They weren't strong enough to break Contador, even though Contador doesn't seem to be in top form. And they weren't strong enough to break the incredible will of Thomas Voeckler, who just loves being in yellow, and who may well beat his 2004 streak of ten days in the yellow jersey (and who is still leading Frank Schleck by 1:49 and Andy by 2:15). That said, the Alps are next, after one flat stage and a rest day, and Voeckler hasn't fared well in big mountains. By Stage 20 next Saturday, we should know who the winner of the Tour de France is, but it's really anyone's race right now.