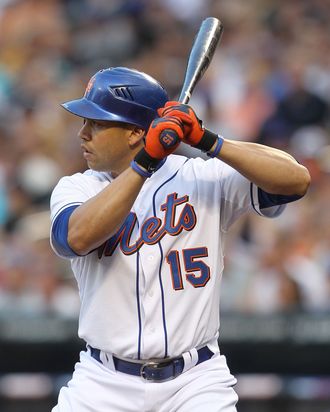 Carlos Beltran will most likely be traded by the July 31 deadline, and with the Mets beginning a ten-game road trip tonight that will take them away from Flushing through the end of the month, yesterday's game was likely Beltran's last appearance at Citi Field in a Mets uniform. Beltran started the week out of the lineup with the flu, but he returned in style Tuesday, reaching base five times in the series opener against the Cardinals. Then, after smacking his fifteenth home run of the season in another Mets win over St. Louis on Wednesday, Beltran went 0-for-3 with a walk in yesterday's series finale, a 6–2 loss to the Cards. And now, as the Mets hit the road, we wait to see where Sandy Alderson deals him, and what the Mets get in return. (The Yankees, by the way, reportedly don't believe Beltran is a fit.) But what happened this week that didn't involve Beltran asking reporters for updates in the middle of games?
Jose Reyes returned to the Mets lineup after a stint on the DL (and a stop in Brooklyn). Meanwhile, the Mets are reportedly certain they won't trade Reyes.
After splitting a series in Toronto, the Yankees split a series with the Rays.
The United States lost to Japan in the Women's World Cup final.
Brandon Dubinsky avoided arbitration and agreed to a four-year contract with the Rangers.
For what it's worth, the Knicks'$2 2011–12 schedule was released.
The Islanders announced that Blue Oyster Cult will play a concert in support of their proposed arena.
A Yankees fan put a Derek Jeter foul ball up for sale.
The Tour de France entered its final weekend.
And we looked at the Jets' and Giants' free-agency shopping lists.
That's it for us. Have a great weekend.