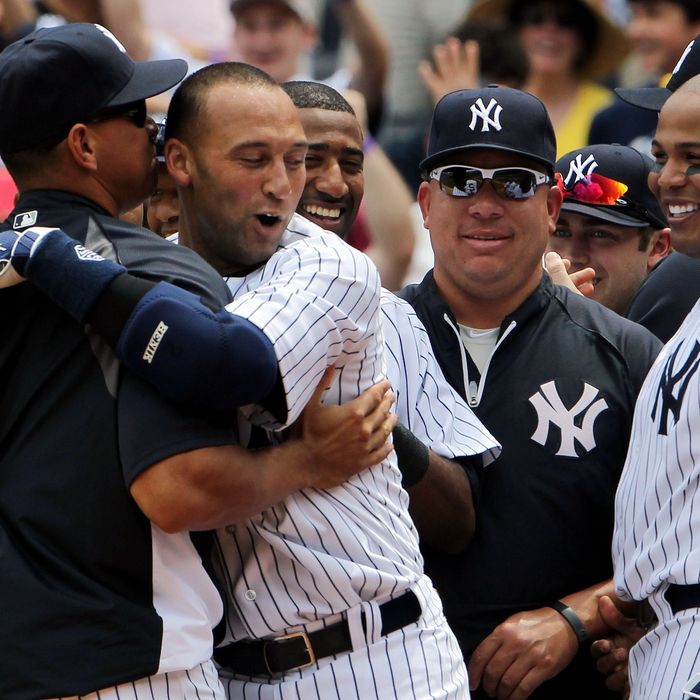 On Saturday, Derek Jeter became the 28th ballplayer to collect his 3,000th hit, and he did so in style, reaching the milestone with a home run during a game in which he went 5-for-5. (He also became the first player to get 3,000 hits as a Yankee, and it might be awhile before a second one does it.) Also on Saturday, we learned the name of Christian Lopez, the fan who caught the ball in the left-center-field stands, and returned it to Jeter instead of shopping it to the highest bidder. And as we've since learned, sometimes it pays to be nice. It also pays, apparently, to be the man who surrenders a milestone homer, as even Rays pitcher David Price got a merchandise deal out of all this. But what happened this week that didn't involve "history, with an exclamation point!"?
Speaking of Jeter, he didn't attend the All-Star festivities in Arizona. But Robinson Cano did, and he won Monday's Home Run Derby. Meanwhile, the pitcher formerly known as the Yankee Clippard earned the victory for the National League.
The Mets traded Francisco Rodriguez to Milwaukee, while Sandy Alderson explained that said trade doesn't mean that the Mets are giving up on the season.
Bartolo Colon lasted less than an inning in the Yankees' first game after the All-Star break.
The United States advanced to the final of the Women's World Cup.
And the judge in the Roger Clemens case declared a mistrial.
That's it for us. Have a great weekend.