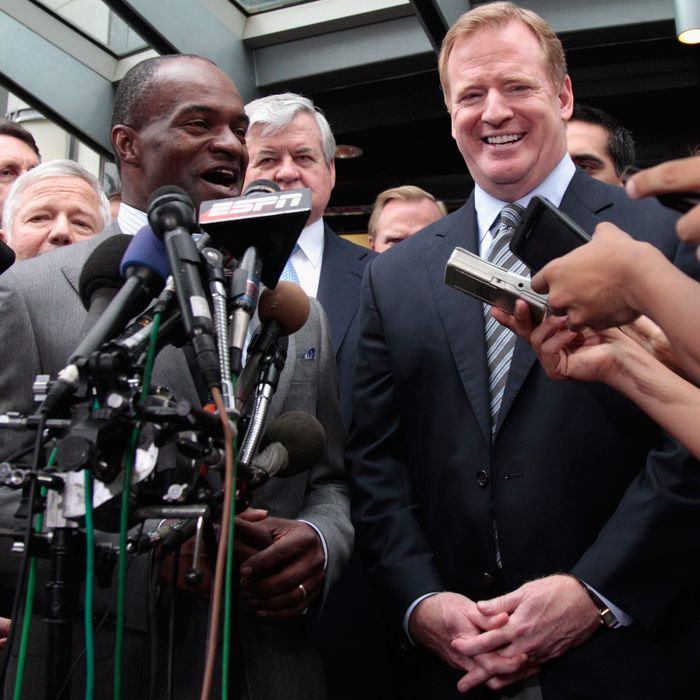 DeMaurice Smith and Roger Goodell.
The end (finally!) of the NFL lockout this week meant the beginning of the super-condensed off-season: The Jets agreed to a deal with Santonio Holmes, and then set their sights on Nnamdi Asomugha. But Brad Smith, unwilling to wait for an offer, jumped to the Bills. (Update: Looks like the Jets won't be signing Asomugha.) The Giants, meanwhile, cut ties with veteran offensive linemen Rich Seubert and Shaun O'Hara, while a reunion with Super Bowl hero Plaxico Burress no longer looks as unlikely as it once did. But what happened this week that didn't involve a new candidate for the blog's Official Favorite Athlete?

Sandy Alderson passed his first big test, trading Carlos Beltran to the Giants for pitching prospect Zack Wheeler.
The Yankees won two out of three against Seattle.
The Mets swept the Reds in Cincinnati.
Former Yankee Hideki Irabu was found dead in his California home.
The Rangers avoided arbitration with Ryan Callahan, signing him to a three-year deal. Well played, Sather.
We looked at what we learned, and didn't learn, from HBO's Derek Jeter documentary.
We took a look at the "I was traded for $1" club.
And we looked back at the best Tour de France in recent memory.
That's it for us. Have a great weekend.