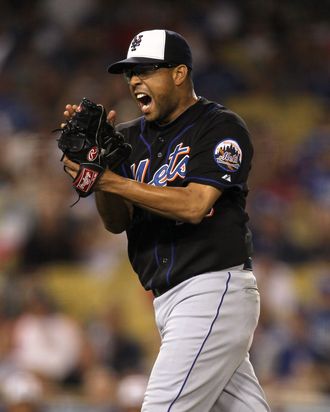 Photo: Stephen Dunn/2011 Getty Images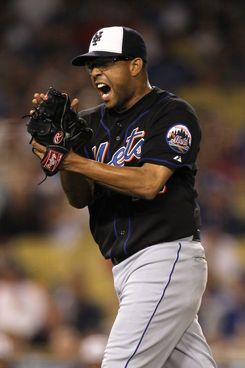 When Jose Reyes left Saturday's loss to the Yankees with a tight left hamstring, something telling happened: No one yelled at the Mets. The last two months have been dominated by should-they-trade-him-or-not speculation, with many observers saying the whole time the Mets should deal him while they can, before he gets hurt again, before all his value disappears. Yet, when he left the game Saturday, the laments were not, "Oh, no, there goes his trade value!" Instead, everyone just wanted to know when he was gonna be back on the Mets, soon, soon, please please soon. Jose Reyes is too much fun to watch right now to think about something as untoward as trade value.
Reyes is going to take it easy on his hamstring — he has a Grade 1 strain, the mildest grade — considering how much trouble he's had with his other one. He'll miss a couple more days at least, and maybe more, but it's not overly serious. He even might be back in time for the All-Star Game in a week, where he will start at shortstop.
His season has been terrific — he continues to lead the National League in WAR, and is second only to Toronto's Jose Bautista in all of baseball — and it even has a very real chance to be historic. Reyes already has 15 triples (more than fourteen other teams in baseball, total) and is only nine away from 24, which would be the most triples since 1925. (The all-time record is 36, by Chief Wilson in 1912, back when you were awarded a triple simply for being gentlemanly and a property owner.)
That's to say: Jose Reyes has been so freaking fun to watch that the only thought you have when he's out of the lineup is how to get him back in, immediately. Let (All-Star) Carlos Beltran and Francisco Rodriguez worry about trade talk. Reyes is too amazing this very second. The trading deadline isn't for three-plus weeks; let's deal with it then.
Meanwhile, the Mets have won two in a row, beating the ready-for-this-nightmare-season-to-be-over-already Dodgers 5–2 with a late rally. The Mets are back over .500, 6 1/2 games behind Atlanta (a team they have nine games left against) in the wild-card chase. The Baseball Prospectus playoff odds are only 2.5 percent, so you don't want to get carried away. But David Wright will start a rehab assignment next week, and maybe they'll catch a break with Ike Davis, and Reyes will be back soon and … well, let's just slow down and enjoy this pleasant little run while we can, without worrying about the future. And just hope that we can all watch Jose Reyes again, soon.