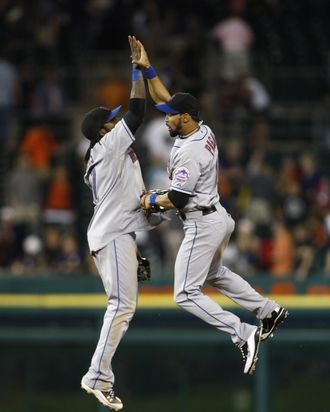 Photo: John Grieshop/2011 Getty Images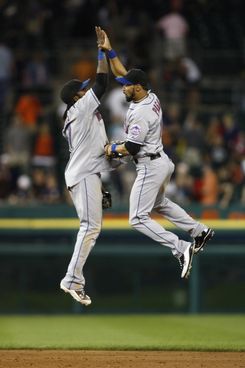 Since losing to Roy Halladay on April 6 and falling to 3-3, the Mets had reached the .500 mark three times this season, only to lose their next game each time. But they could boast a winning record again this week after beating Detroit 14-3 on Tuesday night. And then, a night later, they'd win by another football score, routing the Tigers 16-9 for their fourth straight win. (We'll assume, for purposes of that sentence, that Terry Collins decided to go for two on both of his team's touchdowns.) They scored a franchise-record 52 runs in that four-game span, and though they'd lose yesterday to Justin Verlander, they enter this weekend's Subway Series on a little bit of a roll. But what happened this week that didn't involve Jose Reyes's continued awesomeness?

After winning on Old-Timers' Day Sunday, the Yankees swept Milwaukee.
Derek Jeter didn't return from the disabled list on the first day he was eligible, but he's set to return to the team on Monday.
Speaking of Jeter, a Brooklyn man has invented a way to make him disappear from the Internet.
At the All-England Club, Wimbledon headed into its final weekend.
Chris Drury's buyout became official, and we looked at Brad Richards as NHL free agency got under way.
We said good-bye to Donnie Walsh, and hello to the NBA lockout.
Speaking of lockouts, Eli Manning shared his thoughts about the NFL's ongoing labor dispute.
And we previewed the Tour de France.
That's it for us. Have a great long weekend.