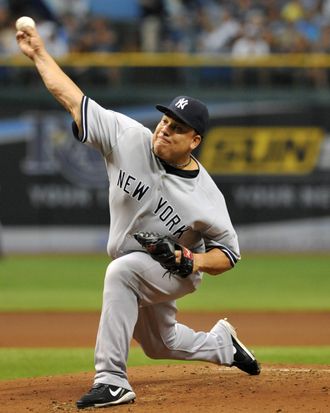 YES gave a stat last night that's more than a little scary: Bartolo Colon hasn't won a game after July 5 in any season since 2005. And so no matter how Colon pitches in his final starts before July 31, Brian Cashman must have his doubts about Colon's durability. On the one hand, if Colon pitches like he did in the season's first half, the Yankees would be crazy not to keep giving him the ball. But on the other hand, Cashman needs to have a plan B (which may very well be Ivan Nova) if Colon breaks down. And so having said all that, Colon bounced back last night from his worst start as a Yankee, tossing six and a third strong innings, striking out a season-high nine batters, and exiting with a chance to earn the win. And though he didn't earn that win — he, in fact, took the loss — it wasn't entirely his fault.
Colon allowed two base runners in the seventh, leaving the game with one out and a 2–1 lead and turning the ball over to Boone Logan. But then things got weird. Logan got Justin Ruggiano to hit a fly ball to center, but Curtis Granderson lost the ball in the roof, allowing Ruggiano to reach and allowing both base runners to advance. And yet Colon still would have been in line for the win if Logan had been able to field a comebacker to the mound, which could have resulted in a crucial inning-ending double play. But he didn't (he was charged with an error), everyone moved up a base, and the Rays had tied the game. Johnny Damon's sacrifice fly put the Rays in the lead — Curtis Granderson made a sliding catch in shallow center to record the out, but his throw home was wild — and a night after watching the Yankees rally late to win, the Rays turned the tables. The Yankees would go quietly in the eighth and ninth, and Tampa Bay — a team that badly needed a win, after a couple of tough divisional losses in a row — secured the 3–2 victory.
Still, Colon's outing was an encouraging one. Perhaps there's a trade coming, which will require yet more rotation shuffling. Or maybe the cost for an impact starter will prove to be prohibitively high, and Cashman will rely on what he has in the organization, or perhaps look to make a lower-risk move to add some depth to his staff, just in case. (This seems like a good place to mention that Nova left last night's triple-A game after apparently rolling his ankle.  Joe Girardi said last night that he wasn't sure of the severity of the injury.) But either way, even though he took the loss in a game that ended in frustrating fashion, Colon gave Cashman a little more to think about last night.