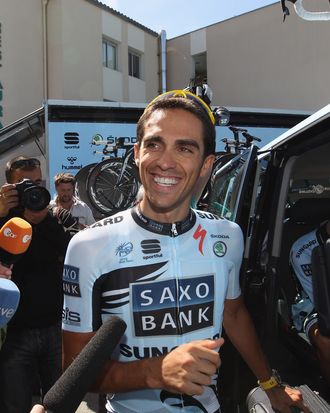 Photo: Michael Steele/2011 Getty Images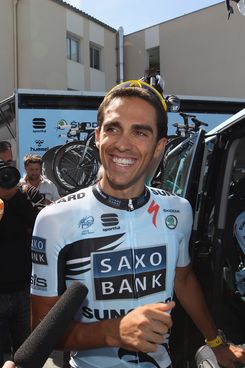 This Saturday, Le Tour de France will be upon us, with its men in spandex and French spectators running through the countryside in animal costumes. Below, everything you need to know when the local bartender decides to turn just one TV to something other than tennis or baseball.
Alberto Contador is still embroiled in steak-gate.
Unlike chain-gate, which resulted in the ultimate defeat of 2010 runner-up Andy Schleck, the controversy over whether last year's champ, Alberto Contador, knowingly took the performance aid clenbuterol or, as he claims, accidentally ingested it via a tainted piece of meat, hasn't gone away. The Spanish federation has given him a pass, but a binding international ruling won't come till August, which means that the overwhelming favorite (and 2011 Giro d'Italia winner) could come home with the maillot jaune only to see both last year's and this year's titles stripped away. And lest Contador feels like he can just ignore all this and ride, he faced a flurry of questions about doping yesterday from a ballsy Sunday Times reporter who reminded the champ that every team he's ever raced with has been implicated or associated with doping.
In other words, the specter of doping hanging over this year's Tour is pretty much the same as always. A few days ago, an ex-rider who was supposed to work as a driver for the team Omega Pharma-Lotto was linked to a shipment of banned substances that got seized by airport customs agents in Belgium. The accused said that the products, which are used to stimulate muscle growth in horses, were for his own use, and not for distribution. Meanwhile, the grand jury investigation into whether Lance Armstrong doped, encouraged doping, and defrauded the U.S. government while winning his seven Tour titles is expected to start handing out indictments any moment now.
Dave Zabriskie will not eat steak.
The 32-year-old American rider has gone vegan, becoming the first rider ever to attempt the Tour on such a diet. He is going to cheat a bit, eating salmon two days a week to increase iron absorption, but his performance should be interesting to watch. He claims it has increased his energy and even helped his vision improve; he's also won more time trials this year than at any other time in his career.
The green jersey competition is totally different.
Thor Hushovd Alessandro Petacchi is going to be so upset! Who is Thor HushovdAlessandro Petacchi? [Edit: we confused Petacchi with Hushovd on our first take; sorry, cycling fans (and Italians)!] Well, last year, the Norwegian Italian won the sprinters' jersey on points despite winning only two stages to the five won by British Mark Cavendish, perhaps the greatest sprinter the sport has ever seen. (Cavendish won six stages in 2009, and four in 2008, too.) The new rules tilt more points toward stage winners relative to lower finishers, and there are fewer intermediate sprints, HushovdPetacchi's specialty. In 2009 and 2010, Cavendish got reprimanded and denied points on certain days for impeding other sprinters or getting involved in crashes during the dash for the finish. But if he races cleanly, this is his to lose. Also keep an eye out for American Tyler Farrar, who crashed early last Tour and had to drop out. He's on the same team as the excellent Hushovd, who has said his goal this year is to get Farrar in green by the end of July.
The King of the Mountains competition is different too.
Such upheaval! The KOM polka-dot jersey is awarded to the rider who accumulates the most points on certain designated climbs. That hasn't changed. But the number of riders allowed to earn points at each climb has — as with the green jersey, fewer riders get points, which is better for stage winners and worse for riders who consistently finish high but can't kick it up a notch to win. Additionally, this year's route is specially designed for climbers, which means the KOM winner might end up being the guy who wins the yellow jersey, too. Keep your eyes on Dutchman Robert Gesink, a pure climber who's considered a yellow-jersey threat. Other KOM contenders: the Dane Chris Anker Sörensen, the main domestique on the Saxo Bank-Sungard team, who will be leading El Pistolero (Contador) up the climbs; Frank Schleck, brother of Andy and the guy most likely to be with him every step of the way up the mountains; and of course Andy Schleck and Alberto Contador, who very may well accidentally walk away with the KOM jersey while battling each other on the mountaintops. Speaking of which…
The Contador-Schleck rivalry is still going strong.
Soon after the end of the last Tour, Andy Schleck and his brother Frank announced they'd be leaving Team Saxo Bank to form a team based in their home country of Luxembourg, named Leopard Trek, including veteran Jens Voigt and Fabian Cancellara, the best time-trial rider in the world. Contador then moved from team Astana to take over Schleck's leadership position at Saxo Bank and work under the management of former Tour winner (and admitted doper) Bjarne Riis, which doesn't do much for Contador's anti-doping stance but does put him with a formidable coach on the other side of his radio headset. Steak-gate aside, though, Contador will be tough to beat. He handily won the Giro d'Italia, he's the best climber in the sport, he's great at time trials, and his willpower is indefatigable. What Schleck has going for him is his almost equally great climbing ability, the back-to-form status of his brother Frank — whose early exit from last year's Tour due to a broken collarbone left Andy without a strong ally in the mountains — and the diminished importance of time trials this year, an area in which he's shown steady improvement but is still not his strong suit. (There's also the possibility that Contador peaked too early in the Giro d'Italia.) Other than them, keep an eye out for last year's fourth-place finisher, Sammy Sanchez and Britton Bradley Wiggins, who finished fourth in 2009 but had a disappointing run last year. He's concentrating all his efforts on the Tour this season, and just won the prestigious one-week Criterium du Dauphine. Of course, most of the coverage we're reading comes from British reporters, so view Wiggins warily.
Both the public and Tour organizers have been very vocal about wanting the Tour to get more exciting.
Last year's Tour featured giant pileups seemingly each of the first ten days, and the bruised and bloodied riders slowed down the pace of the peloton several times to allow fallen riders to catch up. That's wonderful and sportsmanlike, but doesn't really make for a good race. With considerable market pressure on the Tour from the fast-gaining-in-reputation Giro d'Italia, officials hope the riders are a little more selfish this year. Race director Christian Prudhomme has also said that he wished Andy Schleck and Alberto Contador had attacked each other more last year, which one assumes he hopes they take as a challenge.
Stages to watch
Stage 1: July 2. The largely ceremonial opening stage starts on the Passage du Gois, a below-sea-level road ("the road under the sea") that often disappears beneath tides. In 1999, when the Tour last went along the causeway, the road was slippery enough to cause a spectacular 50-rider crash that took six minutes from Switzerland's Alex Zülle, a prerace favorite to beat Lance Armstrong who ultimately came in second. This time around, the Tour will pass the sea in a neutralized procession before getting to dry land, where the official start flag will be dropped. Still, it's going to be gorgeous.
Stage 2: The Team Time Trial, July 3. With this Tour's sole individual time trial coming one day before Paris, this day will likely be the most influential in determining who carries the yellow jersey into the mountains, and, depending on how big the time gap is between the general classification contenders, may determine results far after that. Per the authoritative Velo News, Team Sky, winner of the 2010 Giro TTT, is the one to beat, with GC contender Bradley Wiggins at the helm of a bunch of strong riders. Garmin-Cervélo, with veterans Dave Zabriskie and Christian Vande Velde, along with green jersey contenders Tyler Farrar and Thor Hushovd, is also a threat, as is HTC-Highroad, filled with Mark Cavendish's lead-out men. But the thing to pay attention to is the relative strength of Andy Schleck's Leopard-Trek to Contador's post-Schleck team Saxo Bank. Leopard-Trek has struggled in previous time trials with their ace-in-the-hole Fabian Cancellara actually riding so strongly he tore apart their drafting efforts. But they know their issue, and veterans Jens Voigt and Stuart O'Grady will likely help reign in the Cancellara train. If Leopard Trek pulls it together in the TTT, it will give Andy Schleck and Bradley Wiggins an early advantage, since rivals like Contador, BMC Racing's Cadel Evans, and Euskaltel's Sammy Sanchez are all on weaker teams.
Stage 7: Le Mans to Châteauroux (July 8); Stage 11: Blaye-Les-Mines to Lavaur (July 13); Stage 15: Limoux to Montpellier (July 17). The last flatish stage before a few days of hills, the last flatish stage before the Pyrenees, and the last sprint before the Champs-Élysées. Expect frenzies.
Stage 12: Cugnaux to Luz-Ardiden, July 14. The first of three days in the Pyrenees is also the first of the four summit finishes this year. This is the stage that Lance Armstrong won the day he was yanked from his bike by the strap of a fan's bag. Expect a French rider to attack, since they'll be climbing on Bastille Day.
Stage 14: Saint-Gaudens to Plauteau de Beille, July 16. Last day in the Pyrenees. Only four stages have finished at the top of this sixteen-kilometer HC climb, but the winner each time has gone on to win the TDF: Marco Pantani in 1998, Armstrong in 2002 and 2004, and Contador in 2007. That's a serious mojo boost, and Contador will undoubtedly like to repeat the good-luck charm. Also note that there is barely any flat road between the preceding climbs, which means there will likely be a ton of aggressive riding.
Stage 18: Pinerolo to Galibier, July 21. The highest stage finish ever (8,678 feet) also includes three gigantic highest-category climbs in a single day. Brutal. Will separate men from boys. Likely a battle to the finish between Contador and Schleck.
Stage 19: Mondane to L'Alpe D'Huez, July 22. A relatively short mountain stage, but taking the win atop L'Alpe d'Huez is among the most prestigious victories of a cyclist's career. Dutchmen do particularly well on it, so watch for Robert Gesink.
Stage 20: The Grenoble Time Trial, July 23. Usually time trials this late in the game don't mean much because the differences between riders have become too great to make up. This year's route was used in the Critérium du Dauphiné, which gives Cadel Evans, who raced it, and Bradley Wiggins, who won it, a leg up.
Stage 21: Paris, July 24. Because it's the end of the race.