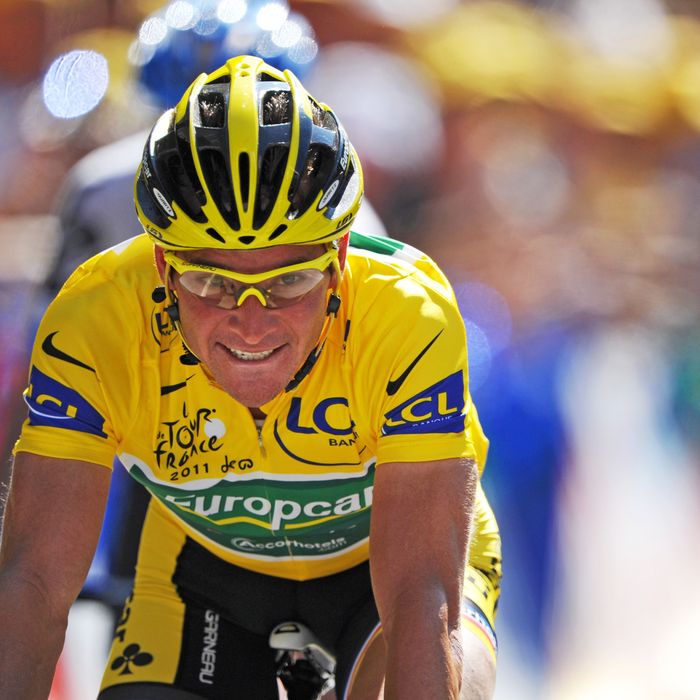 Could Thomas Voeckler win this thing? The yell0w-jersey-wearing Frenchman predicts his own demise every day, saying he has "zero chance" of being the first French winner of the TDF since Bernard Hinault in 1985. But every day he keeps riding as well as the big boys and not, literally, losing his shirt. And we're only four days away from the end. Even if Cadel Evans or Alberto Contador ultimately spoil Voeckler's run, we still won't like them as much as we've grown to like this brave, humble, tenacious dude.
Speaking of people we like, Andy Schleck is starting to not be one of those people. Yesterday he complained to the press that the Tour organizers have created too dangerous of a route, and that everyone is terrified by the descents. Specifically, he called today's Stage 17 descent down the Cote de Pramartino "fatally dangerous." It's a 15 percent grade, five-mile drop — which sounds completely terrifying — so we agree with that. And this did feel like Tour de Crash in weeks one and two. But then Schleck started to bash yesterday's descent, on which he lost over a minute to Evans and Contador, and pretty much lost the Tour. "What do the public want to see, a fair race or a race which ends up in the hospital?" he whined. We want to see a fair race, of course, but in all fairness, Mr. Schleck, it was the ascent and not the descent that got you. You and your brother kept falling off the back and couldn't respond to Contador and Evans. Don't blame some mountain that never did you wrong. Our money is now on Evans, who was just powering up that climb, calmly eating his power gel like it wasn't a thing.
That nonsense aside, we keep waiting for this race to break wide open, and we would have bet money that today, the first day in the Alps, would provide some nice GC shake-ups. We would have lost. (Here's hoping for more tumult on tomorrow's killer Stage 18, which features a total of 17,000 feet of climbing over 125 miles. ) The breakaway of the day started 10.5 kilometers in with ten riders but no major GC contenders. The composition of the lead group changed throughout the day as it built a major gap on the Peloton. By the time they reached the Category 2 Col de Montgenèvre, with about 84 kilometers to go, the lead group had over a seven-minute lead.
As they hit the Cote de Pramartino, Edvald Boasson Hagen, who'd lost the previous day's stage win by seconds to fellow Norwegian Thor Hushovd, and French National Road Race champion Sylvain Chavanel broke away from the breakaway, followed by Jonathan Hivert. Boasson Hagen crested first, followed by Hivert. But Andy Schleck was right about that descent being scary: Hivert crashed once and once misjudged a turn and wound up in a parking lot. Boassan Hagen, on the other hand, kept the descent clean and powered through the flats alone in the final kilometer to the win.
Meanwhile, after the Peloton hit the Pramartino climb, Contador attacked on the steeps, and Schleck and Voeckler immediately responded, with Schleck giving Contador a defiant look as they rode side by side. Contador attacked again. Schleck and Voeckler responded again. Knowing that his only chance to make up time was on the descent, Contador took the turns like a man possessed, even while knowing that the gain would only be a few seconds at most. He was followed by almost as insane Samuel Sanchez, who is in fifth place, and they worked together to gain time, but Schleck and Evans still caught them on the flat final kilometer. Voeckler, however, is not as brave on descents as he is in general and had a couple of bad bobbles, also misjudging a turn and, like Hivert, ending up in a parking lot. He lost 27 seconds on Contador, Evans, and Schleck, but still leads Evans by 1:18.
1.    Thomas Voeckler, EVEN
2.    Cadel Evans, 1:18
3.    Frank Schleck, 1:22
4.    Andy Schleck, 2:36
5.    Samuel Sanchez, 2:59
6.    Alberto Contador, 3:15
You know that everyone listed below Voeckler's name thought they'd be leading this thing by now, and given Contador's many unsuccessful attacks today, they're probably all a bit desperate wondering if they'll have the legs and the opportunity in the next two days to shake off that mosquito of a yellow-clad Frenchman.