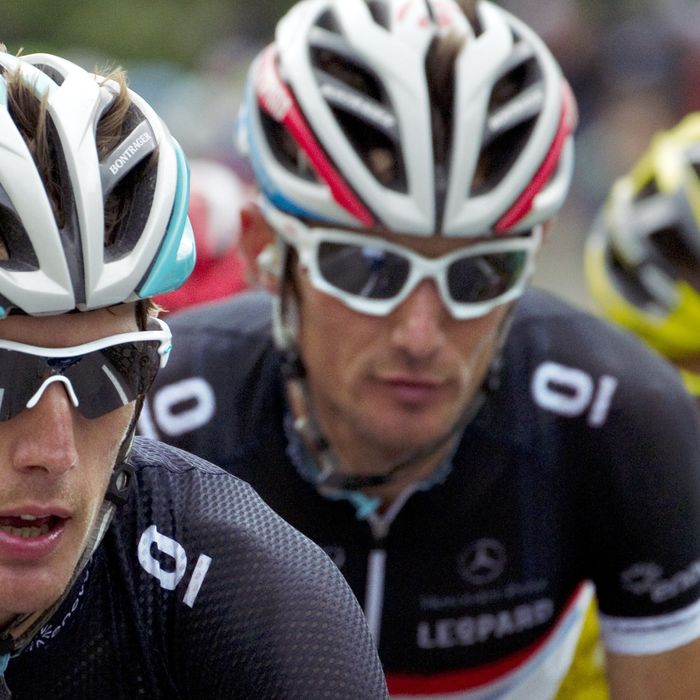 Les Schlecks. (Andy is on the left.)
Well, now we know how Frank and Andy Schleck plan to beat Alberto Contador in the Tour de Crash (thanks, Redlands). Today's first day in the Pyrenees didn't provide much of a shakeup in the overall standings — Thomas Voeckler, improbably, is still in the yellow jersey — but it did seem to reveal Contador's deteriorated condition and the Schleck brothers' cocky one-two-punch strategy.

The stage involved one Category 1 climb (very hard) and two HC (hors categorie, or too hard to categorize) climbs, including a summit finish at the ski resort town of Luz-Ardiden. All eyes were on French riders, particularly Voeckler, since it's tradition for them to try to win the stage that happens on Bastille Day, even though they only succeed about a third of the time. Things got exciting early on when the Welshman Geraint Thomas, in 31st place and just 5:51 back overall, joined a six-man breakaway otherwise populated by noncontenders. Thomas's rear wheel locked up twice on the descent of that first Cat 1 summit, sending him off the road twice (and onto grass, it could have been much worse), but at least he didn't completely crash like Voeckler, whose locked wheel sent him bouncing off a car (without injury), and Andreas Klöden, who added a banged up shoulder to his already injured back. (Mad props, by the way, to Johnny "Barbed Wire Car Crash" Hoogerland, who mounted an unsuccessful but valiant attack with legs that look like this.

On the Tourmalet, bruised and battered GC contenders Robert Gesink (wearing the white jersey, which is for the best young rider) and Christian Vande Velde fell off pace and out the back of the Peloton, which at that point only contained 25 riders. Up front, Thomas struck out from the breakaway on his own, only to get caught on the final climb by Jelle Vanendert and last year's fourth-place finisher, Samuel Sanchez, who'd broken off the Peloton on the descent of the Tourmalet.

Four kilometers from the end, with Sanchez and Vanendert 1:10 ahead of the yellow jersey group and the Thomas breakaway reeled in, the Schlecks showed their hand. Andy Schleck attacked. Contador reacted. Frank Schleck attacked. Contador reacted, along with Ivan Basso and Cadel Evans. Frank Schleck attacked again. Contador reacted. Frank Schleck attacked again , and this time it stuck. With 1.2 kilometers to go, Evans, Basso, Andy Schleck, Contador, and Damiano Cunego picked up the pace and dropped everyone else to chase down Frank Schleck. Feeling the heat, Sanchez and Vandendert spurted ahead. Sanchez attacked and won the stage. Vandendert and Frank Schleck crossed seven and ten seconds later respectively, followed by Evans, Basso, and Andy Schleck in a group 30 seconds back, and a struggling Contador fourteen seconds behind them. Despite his crash, Voeckler finished 50 seconds behind Sanchez, close enough to keep the yellow jersey, which was particularly nice given the Bastille Day significance.

The big losers of the stage seem to be Contador, for showing weakness and Robert Gesink, who lost the white jersey to Arnold Jeannesson and who is now 20:55 back with virtually no chance of reaching the podium. Winners were Voeckler, for retaining his yellow jersey against all expectation; Sanchez, for winning the stage, along with the King of the Mountains jersey, while vaulting ahead to eighth place, 4:11 back; and Frank Schleck, for having the legs to attack so often, and for proving that he and his brother may be unstoppable this year as long as they both stay healthy. Alternating attacks will wear their main competitors out quite quickly, especially if the Schlecks don't care if one of them finishes well ahead. The second-place Schleck on any given day can just focus on staying even with the yellow-jersey pack or merely latching onto the wheel of any other attacking GC contender. Even Alberto Contador might have trouble stopping that.