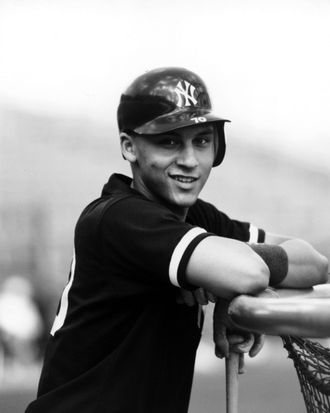 Another weekend of baseball is in the books — the Yankees beat the Rays on Saturday and Sunday, while the Mets dropped two out of three in San Francisco — so what did we learn over the past couple of days? These nine things, for starters.
1. Derek Jeter could be the next Shawon Dunston. Or at least, so says a 1992 pre-draft Kansas City Royals scouting report, which called a high-school-age Jeter a "young Dunston." Meanwhile, an Atlanta Braves scouting report — which, like the Royals one, was published on the Times website this weekend — described Jeter's batting instincts as "excellent" but rated his hitting mechanics as only "fair." Not to knock Dunston, who played eighteen years in the big-leagues (and whose nephew, we must note, was a standout basketball player at Fordham), but it's safe to say those comparisons stopped a couple thousand hits ago.
2. Ticket scalping ain't what it used to be. The soaring prices of Yankees tickets on the (legal) secondary ticket market were in the news last week as Derek Jeter approached his 3,000th hit, but what about the ever-present scalpers who buy and sell their tickets right near the ballpark itself? The Daily News caught up with a couple of them and learned, as you probably could have guessed, that business isn't quite what it used to be. Said one: "Everything is on StubHub nowadays. People just aren't coming to us to buy tickets anymore. It's not like it used to be, the good old days at the old Stadium."
3. Jason Isringhausen has asked Sandy Alderson not to trade him. This is kind of a nice story: Isringhausen, who began his career with the Mets and signed with them again before what could prove to be his final season, read about how he might be traded and went directly to Sandy Alderson to tell him he wanted to remain with the team. He said that he likes playing for the team he began his career with, and that he's enjoying playing for a team that's performing better than expected. He even said that getting traded and reaching the playoffs with another team would "not be as special" as staying put. Of course, it remains Alderson's call. Says the GM: "It's an expression of preference, and I take it into account, and weigh it accordingly."
4. Joe DePugh could throw that speedball by you, make you look like a fool boy. The Times catches up with DePugh, a teammate of Bruce Springsteen's in a New Jersey Babe Ruth Little League and the inspiration for the "big baseball player back in high school" in the song "Glory Days." The closest DePugh ever got to a big-league baseball career, by the way, was a tryout for the Dodgers. It didn't go well. Said DePugh, "I was like: 'I'm going to be a pitcher for the Dodgers. No, I'm going to college. No, I'm going to be a pitcher for the Dodgers.' Well, the tryout cleared all that up." Also, fun fact: DePugh's nickname for the right fielder Springsteen: Saddie.
5. Francisco Rodriguez is ready for free agency. There's no guarantee he'll be a free agent after this season — if he finishes 55 games this season, a massive $17.5 million option kicks in for 2012 — but if he doesn't reach that number, we know now he'll hit the open market with Scott Boras as his agent. Meanwhile, Sandy Alderson surely continues to work the phones in search of a trade partner.
6. This year's game of musical All-Stars ends with David Robinson heading to Arizona. Robertson learned of the news in the dugout during the first inning of yesterday's game. Said Robertson (who, according to Elias, has allowed just five hits in opponents' last 37 at-bats with men on base) about what he was thinking after realizing Joe Girardi's shouts of "Robbie, Robbie" were directed at him, and not Robinson Cano: "Oh man. What'd I do now?" If you're keeping track of the Yankees' eight All-Stars, Robertson is one of only four eligible to actually play in the game.
7. Christian Lopez is the new Tim Forneris. Remember Forneris, the Busch Stadium grounds crew member who returned Mark McGwire's 62nd home-run ball in 1998, instead of selling it for millions of dollars? He and Lopez would get along, we'd bet. After catching Jeter's 3,000th hit in the left-center-field stands, Lopez (who says he has more than $100,000 in student loans), returned the ball to the shortstop — without asking Jeter or the Yankees to cut him a check. (That decision apparently provided fodder for WFAN callers this morning.) At least he didn't come away empty-handed: The Yankees gave him autographed bats, balls, and jerseys, as well as four Champions Suite tickets for the rest of the season, including playoffs. Plus, he got to meet Jeter, Reggie Jackson, Mariano Rivera, Jorge Posada, and, weirdly, Jay-Z, who was there offering his own congratulations to the Yankees' shortstop.
8. Mike Piazza wore a Mets hat yesterday. We're quite confident that Mike Piazza will be depicted with a Mets cap on his head on his Hall of Fame plaque, but, in case you'd like to read into this story to support that theory, we'll note that he wore a Mets cap while managing the U.S.A. team in yesterday's Futures Game in Arizona.
9. This season of Curb Your Enthusiasm includes lots of baseball references. Last night's season premiere involved a story line in which the Dodgers' ownership situation was in question because of a messy divorce. (Where does Larry David come up with this stuff?!) A future episode, in which a Jewish friend won't play golf with David on the Sabbath, leads to the line "You're Koufaxing me!" according to the Times. And then there's Bill Buckner's appearance in episodes nine and ten — teased in some behind-the-scenes footage, and now discussed in that same Times article. A preview, courtesy of Richard Sandomir: "Without giving much away, Buckner hears familiar taunts from louts on Park Avenue, attends a hastily assembled minyan, is shouted at by the show's foul-mouthed character Susie Greene and becomes a goat again."