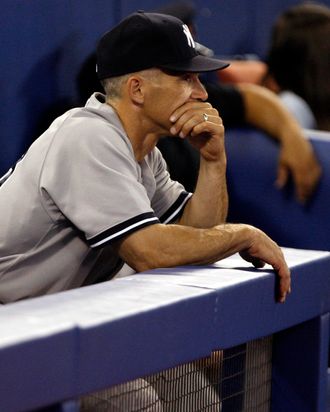 Another weekend of baseball is in the books — the Yankees split their series with Toronto, while the Mets dropped two out of three to the Phillies — so what did we learn over the past couple of days? These nine things, for starters.
1. Joe Girardi isn't accusing anyone of stealing signs, but he's at least suggesting it. Perhaps a base runner stealing signs while on second base is part of the game, but Joe Girardi came awfully close this weekend to accusing the Blue Jays of using off-the-field methods to steal his team's signs. (Think 1951 Giants-style methods.) Girardi, you see, had told Russell Martin to use complicated signs on Friday night, even when no one was on base. Said Girardi: "Sometimes we have inclinations that things might be happening in certain ballparks that we're aware of, and we try to protect our signs." Then when he was asked if that meant using off-the-field methods, he replied, "Could be." But when asked whether he was accusing the Blue Jays of doing such a thing, he answered, "I'm not accusing anyone; I just said we need to protect our signs."

2. A New Jersey congressman made a fine uniform choice. On Thursday, the Democrats topped the Republicans, 8–2, in the annual congressional baseball game, thanks to an impressive complete-game one-hitter from Louisiana's Cedric Richmond. (For what it's worth, they only played seven innings. But that's pretty impressive, nonetheless.) We'll leave the political talk to our friends over at Daily Intel, but we will however take a stand to applaud New Jersey congressman Bill Pascrell Jr. for opting to wear a Fordham uniform while serving as hitting coach for the Team Democrat.
3. The Mets didn't hate K-Rod; they just hated his contract. In the Times this weekend, Alan Schwartz writes about how his son lost his baseball innocence last week when the Mets traded his favorite relief pitcher to Milwaukee. (Upon seeing the headline "Mets Deal Rodriguez to Brewers," questions from his son included "Mommy, what does 'deal' mean?" and "Daddy, do the Mets hate K-Rod?") Of course, it wasn't so much K-Rod the Mets needed to get rid of, but the contract that Omar Minaya gave him that included a $17.5 million option for 2012 if he finished 55 games this year. And we've learned a lot about the K-Rod situation over the past few days, like how his former agents didn't submit a ten-team no-trade list, and how the Mets reportedly told teams that they had to trade K-Rod quickly, assuming his new agent, Scott Boras, would have discovered that the list wasn't submitted, potentially making a trade more difficult. Speaking of that $17.5 million option, by the way? It's now gone, as part of an agreement that will allow him to become a free agent after the season no matter how the Brewers use him in 2011.
4. Paul McCartney had some Yankee banter prepared this weekend. Joked McCartney, from the Yankee Stadium stage during his shows there this weekend: "And by the way, who is this Derek Jeter guy? Somebody said he's got more hits than me." (Plenty of footage from the show is up on YouTube, by the way, and the Telegraph has some professionally shot clips.)
5. Getting hit in the mask with David Ortiz's backswing isn't pleasant. ESPN microphones picked up the home-plate ump in last night's Red Sox-Rays game yelling "Son of a bitch!" after getting hit in the mask with a David Ortiz's backswing, but considering how unpleasant that sounds, perhaps the network's censors should be glad something worse didn't make it onto the air. Assuming the clip isn't pulled, video can be found here.
6. The Mets have a lot of talent in their minor leagues right now. That's not a comment on the quality of their prospects, by the way, because while Jose Reyes makes an appearance in Brooklyn today, David Wright is down busy rehabbing his lower-back injury. In Wright's most recent outing for single-A St. Lucie, he went 2-for-4 with a double, a walk, and an RBI while serving as the designated hitter yesterday afternoon. The Mets hope he'll be back in the big-leagues Friday.
7. Alfredo Aceves has the highest winning percentage in baseball history. Really, he does! By earning the win in last night's sixteen-inning Red Sox-Rays game, the ex-Yankee improved his career record to 19–2, and his .905 winning percentage is best among pitchers with at least twenty decisions. Not that a middle-reliever (or any pitcher, really) should be judged by his winning percentage, and a relatively low cutoff is needed to accommodate Aceves, but still, who would have thunk it?
8. People who run on the field at baseball games are getting weirder. Here is a photo of a man who ran on the field in Atlanta Saturday — while wearing a wedding dress. Judging by the bottom right photo on that page, he was quite happy, despite the grass stain on his dress. The cop escorting him off the field, however, is decidedly less happy.
9. Chien-Ming Wang is getting closer to the majors. Chien-Ming Wang, who twice started the Yankees' postseason opener but hasn't thrown a big-league pitch since July 4, 2009, will reportedly be promoted to Washington's triple-A affiliate next week and could be back in the majors by the end of the month. He's allowed just two runs in eighteen minor-league innings so far this season.