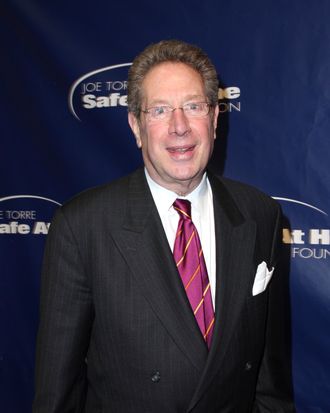 Another weekend of baseball is in the books — the Yankees took two of three from Oakland, while the Mets lost two out of three in Florida — so what did we learn over the past couple of days? These nine things, for starters.
1. Kei Igawa has a long commute. Bill Pennington's profile of Yankee bust Kei Igawa in the Times this weekend is worth a read for any number of reasons: It looks at Igawa's adjustment to the United States and to the American game, his interaction with his Minor League teammates, his still-impressive work ethic, and much more. But perhaps the most fascinating detail is this: Igawa still lives in Manhattan, and commutes, with his translator, from the East Side to either Scranton or Trenton — depending, of course, on which Yankees farm team he's pitching for at the time.
2. Someone gave John Sterling an excuse to sing on Friday. We could explain why Sterling broke into song on Friday night, as he's known to occasionally do, but we'd encourage you to just watch the video below. He explains it all. We'll just say this: Our favorite part of this video is that it wasn't captured by a blogger who shares our fascination with the Yankees announcer, but is provided as an embeddable clip from the MLB website. MLB Advanced Media: giving the public what they want. (This is what the public wants, yes?)

3. The Carlos Beltran trade deadline is actually a day earlier than the real trade deadline. So Tweets Brian Costa of the Wall Street Journal, who explains that Beltran (who has the ability to approve and veto trades) can't formally approve a deal until 24 hours later. So technically, the Mets would need a deal in place by Saturday at 3:59 p.m.
4. Luis Sojo should probably keep his office door shut from now on. From the AP: "After a recent game involving his Class-A Tampa Yankees, Sojo had his most unique guest. Sitting on the couch as he entered his office was a raccoon." For the record, it wasn't part of some elaborate clubhouse prank. The racoon may have come from Al Lopez Park, a nearby recreational area. Said Sojo, the Tampa Yankees' manager, on how he responded upon seeing the racoon staring at him: "I never moved so fast in my life."
5. Jim Bowden picked on a Facebook user for his bad trade suggestion. On Saturday, former GM Jim Bowden published some trade proposals suggested by fans of the Baseball Tonight Facebook page, along with his analysis of each. One of them, in particular, stood out, not just because it proposed sending Albert Pujols to the Dodgers — calm down, Will, it's only a reader's proposal — but because it proposed including a draft pick in the trade, which is not allowed. Writes Bowden: "Sorry, Gilbert, but this trade idea is terrible." We can't say we disagree, but considering the article states that they recieved more than 600 submissions, and considering the trade in question here wouldn't even be legal, couldn't Bowden have just, you know, picked a different proposal?
6. Joe Girardi never tried to stay cool by putting lettuce under his cap. The game-time temperature for Friday's Yankees-A's game was an even 100 degrees, the highest for a Yankees home game since 1999. (It broke the new stadium's game-time temperature mark by eight degrees.) The Yankees took some precautions as a team, but Joe Girardi recalled a method some former teammates used, one that none of this year's players had ever heard of: Keeping pieces of cold lettuce on their heads. Having said that, Girardi says he never considered doing it himself. Michael Kay, however, apparently has.
7. Chien-Ming Wang is going to pitch against the Mets this week. As in, the actual New York Mets, and not some minor-league affiliate. Wang made his final rehab start yesterday against the Scranton/Wilkes-Barre Yankees — it didn't really go all that great, actually — and he's set to make his first big-league start since July 4, 2009, at Nationals Park on Friday.
8. Johan Santana still isn't ready to make a rehab start. Santana threw 45 pitches in a bullpen session yesterday, and said that he "felt good." He even declared that he'd be ready to pitch in a rehab game if he woke up today feeling similarly good. But he won't be making a rehab start quite yet: Sandy Alderson said late yesterday that Santana  would likely pitch a simulated game first. Said Alderson in an e-mail to the Press & Sun-Bulletin of Binghamton: "The next outing for Johan will be in a controlled setting in Port St. Lucie."
9. A ball that Derek Jeter fouled off before getting his 3,000th hit is worth five figures, at least. Remember the ball we wrote about last week? The one that Jeter fouled off during the at-bat in which he reached the milestone? Well, we learned a couple things about it this weekend. First of all, it was snagged by a fan with his arm in a sling. And also, at last check, its auction price had passed the $10,000 mark. Bidding began on Friday at $1,500, and at last check, it was at $10,109, with more than five days to go.