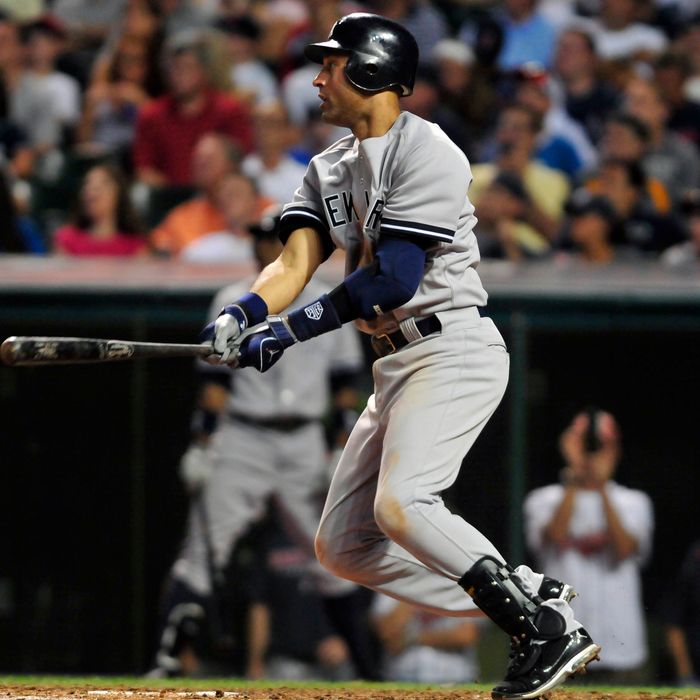 Now that it's over — with a home run to tie a key division game, of course, which will burnish the Jeter legend even further — we can probably all confess that Derek Jeter's "chase" for his 3,000th hit wasn't all that exciting; it's just not as much fun as it should be to watch a player try to reach a number we all know he's going to reach eventually. But the dullness of the event's finish shouldn't take away from its impressiveness: Jeter has now joined a club far more difficult to become a member of than the Hall of Fame (even if a couple of its members aren't in the Hall of Fame, for their own personal reasons).
There have been almost 17,000 men to play Major League Baseball — and there are billions of people on Earth! — but only 28 have 3,000 hits like Jeter does. Reaching that number requires both otherworldly talent, good health, and the opportunity to play regularly far past the age most players are able to. Babe Ruth isn't a member; Barry Bonds isn't a member; Joe DiMaggio isn't even close. It's a tough club to crack.
Getting to 3,000 hits is so rare that it actually creates its own sample size. Reaching such a number is difficult enough that comparing players across eras is simpler than one might think; after all, they lasted long enough to grab 3,000 hits in the first place, meaning there aren't any Cy Young–with-511-wins anomalies. Hank Aaron was a basher, Tony Gwynn a slap hitter, Lou Brock a speedster, but they all reached the 3,000-hit number. That's similar enough.
So, now that Jeter's in the club, we thought we'd take a look and see how he stacks up to the other 27 members in various statistical categories, both old-school and sabermetric. Jeter has an advantage, in that he has more career left to amass counting stats … but his averages, considering they will encompass the end of his career, are destined to drop in the next few years. But as of right now, now that he's in, let's take a look at the leaders of the club and how Jeter compares.
Batting Average
1. Ty Cobb: .366
2. Tris Speaker: .345
3. Tony Gwynn: .338
    Nap Lajoie: .338
5. Cap Anson: .334
13. Derek Jeter: .312
28. Cal Ripken: .276
On-Base Percentage
1. Ty Cobb: .433
2. Tris Speaker: .428
3. Eddie Collins: .424
4. Stan Musial: .417
5. Wade Boggs: .415
13. Derek Jeter: .383
28. Cal Ripken: .340

Home Runs
1. Hank Aaron: 755
2. Willie Mays: 660
3. Rafael Palmeiro: 569
4. Eddie Murray: 504
5. Stan Musial: 475
15. Derek Jeter: 237
28. Eddie Collins: 47
RBIs
1. Hank Aaron: 2,297
2. Cap Anson: 2,075
3. Stan Musial: 1,951
4. Eddie Murray: 1,917
5. Willie Mays: 1,903
23. Derek Jeter: 1,158
28. Lou Brock: 900
Stolen Bases
1. Rickey Henderson: 1,406
2. Lou Brock: 938
3. Ty Cobb: 897
4. Eddie Collins: 741
5. Honus Wagner: 723
12. Derek Jeter: 330
28. Wade Boggs: 24
Runs
1. Rickey Henderson: 2,295
2. Ty Cobb: 2,246
3. Hank Aaron: 2,174
4. Pete Rose: 2,165
5. Willie Mays: 2,062
14. Derek Jeter: 1,726
28. Tony Gwynn: 1,383
OPS (On-Base Plus Slugging)
1. Stan Musial: .976
2. Ty Cobb: .945
3. Willie Mays: .941
4. Hank Aaron: .928
    Tris Speaker: .928
19. Derek Jeter: .832
28. Lou Brock: .753
WAR (Wins Over Replacement Player)
1. Ty Cobb: 163.9
2. Willie Mays: 163.2
3. Hank Aaron: 150.5
4. Honus Wagner: 149.8
5. Tris Speaker: 142.6
24. Derek Jeter: 72.8
28. Lou Brock: 53.4
All-Star Games
1. Hank Aaron: 21
2. Willie Mays/ Stan Musial: 20
4. Cal Ripken: 19
5. Rod Carew/Carl Yastrzemski: 18
12. Derek Jeter: 12
23. Six tied with zero
World Series Championships
1. Derek Jeter: 5
2. Eddie Collins: 4
3. Stan Musial/Tris Speaker: 3
5. Lou Brock/Roberto Clemente/Rickey Henderson/Pete Rose: 2
9. 10 tied with 1
19. 10 tied with 0
All stats from Fangraphs.com and Baseball-Reference.com