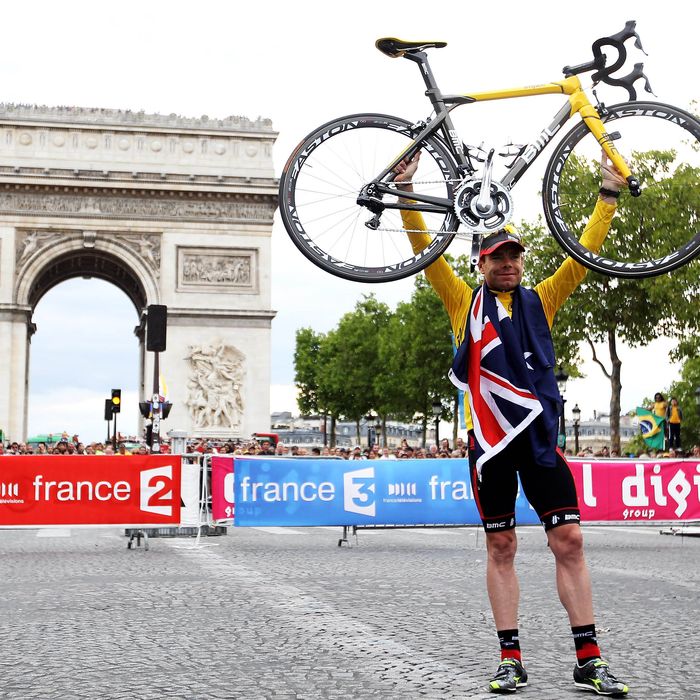 As the first post–Lance Armstrong Tour de France came to a close on Sunday, a tearful Cadel Evans mounted the podium, wearing yellow and draped in an Australian flag, the only man from his country ever to win the Tour, and, at 34, the oldest rider to win cycling's premier race in 88 years. Was this the greatest moment of the greatest Tour in recent memory — from a sheer guts-to-the-wall, nail-biting, love of the sport perspective? Or would one of the many other thrilling events of the past three weeks prove, upon reflection, to have been even greater? Below, this year's TDF's greatest moments of greatness.
The Implosion of Alberto Contador
It's not that I relished Contador going down in flames (okay, maybe a little bit), but that he did implode is what threw this race wide open. This was SO not his year, so much so it was almost comical. He was unlucky enough to lose over a minute on Stage 1, after getting caught behind a crash while his main GC rivals escaped unscathed. Then he lost more time in the Stage 2 Team Time Trial, then crashed yet another three times, turning his knee into, as Paul Sherwen might say, a swollen drumstick of pain. And that was all in the first week.
It's never pretty to see a former champion go down on technicalities, but Contador had other factors weighing against him, chiefly his dominant win in the Giro d'Italia, which left him with less of his usual explosive power, and the looming decision about steak-gate, set to come down in August; it might strip him of his 2010 title, and would have stripped him of this year's title had he won it, not to mention result in a two-year suspension from the sport.
Whether or not steak-gate threw off his mental game, it almost certainly assured that he wasn't on PEDs. In fact, this year's results suggest a larger trend of no doping, or at least less doping than years past. The average speed of the ascent up Alpe d'Huez in recent years has been three minutes slower than it was in doping's height in the nineties and early aughts. So we have fewer superhumans and more plain ol' extraordinary bike-racing humans. The race is better for it.
The Almost-Resurrection of Alberto Contador
You don't get to be a great champion, fueled by evil steak or not, without guts, talent, and a mountain-size ego. And that's what Alberto Contador displayed on Stage 19. If he wasn't going to win this Tour, he at least wanted the glory of winning on L'Alpe d'Huez. He'd started looking more like the old Bert on Stage 16, when he gained over a minute on a struggling Andy Schleck, but it was his attack on Stage 19 that proved he was going down fighting, no matter how obvious it was that he would, indeed, go down. He went out early, on the first climb of the day, and provided the final hatchet stroke to Thomas Voeckler's chances of a podium finish, let alone riding into Paris with the yellow jersey. He almost destroyed Cadel Evans, too, who was forced to make the most unfortunately timed bike change of his career and lost 1:20 to Contador and Andy Schleck on the road before crawling his way back in a desperate stage-long chase. And on the final climb, he left behind Andy Schleck and anyone else who might have doubted him, making a solo break and looking as though he was capable of not only taking the stage but also taking back enough time to put himself in contention for the podium yet again. He lost the stage, mostly because of a prolonged standstill with Samuel Sanchez and Pierre Roland that allowed Roland to slip away and take the win. But the way he lost was worthy of applause.
Thor Hushovd Teaching Mountains Not To Mess With the Hammer
If one were to sum up what made this Tour so fantastic, it was how many different riders defied expectation, and in that respect, Thor Hushovd was the poster boy. When the big man sprinter got the yellow jersey in Stage 1 and managed to hold onto it for eight flat stages after that, it was nothing out of the ordinary. But when the giant Norwegian powered his way through a very long breakaway to a win on Stage 13 in the Pyrenees, not even he could believe he'd done it — judging from the look of happy shock as he looked around while crossing the finish line. But THEN he did it again, winning an all-uphill Stage 16 lead-up to the Alps. Hammertime, indeed.
Johnny Hoogerland Battling Barbed Wire and Winning
First off, screw that France TV driver. Really. (BikeSnobNYC has a pretty great rant on Bicycling Magazine's website about why we should hate people who laugh at cyclists crashing, just as much as we hate the idiots who cause cyclists to crash.) It was truly awful to watch that driver send Hoogerland somersaulting — still clipped into his bike — into a barbed wire fence, destroying a breakaway that he'd been leading for most of the day, taking away his almost-assured stage win, and leaving his legs looking like tenderized meat, with 33 stitches, many of which in the unmentionable spots where his bike shorts had been ripped from his body. But it was truly amazing to see Hoogerland mount his bike again, bleeding EVERYWHERE, and ride into the finish, then go on the podium to collect his polka dot King of the Mountains jersey before heading to the hospital. (Fellow crash victim Juan Antonio Felcha also deserves props, but not as many because he didn't bleed as much.) Even more amazing: That nearly every day after that, we'd hear Hoogerland's name as one of the guys attacking the field.
Mark Cavendish Finally Getting the Green Jersey
Mark Cavendish wins so often and whines about not winning so often that he's become one of those faux-humble successful people you love to hate, like Blake Lively or Gwyneth Paltrow. Still, it's hard to deny that he is by far the best sprinter in the sport, and maybe the best sprinter ever, particularly when you watch him just destroy the field in his third win in a row on the Champs Elysée (which was also his fifth stage win of this Tour and his 20th career TDF stage win). His white (rather, vert) whale, though, is that he'd never won the green points jersey that denotes the most consistent sprinter in the sport.
Rule changes for 2011 favored Cavendish, diminishing the importance of intermediate sprints and increasing the importance of being the guy who crosses the finish line first, which is what he almost always does. Yet his dominant lead going into the final week kept diminishing thanks to his stunning inability to ride mountains. He lost forty points in penalties for twice finishing mountain stages slower than the time cutoff for getting kicked out of the Tour, and was saved from the guillotine only because other sprinters are also terrible at riding mountains and Tour organizers couldn't kick out half the riders at once. What all those penalties meant, though, is that going into the final Stage 21 on Sunday, we still had a green jersey contest on our hands (yellow, white, and polka dot were locked up by then). So instead of being mostly ceremonial, as is typical, the ride into Paris was a real race, with Cavendish's three weeks of hard work and a lifetime of dreams on the line. There were enough points at stake in the stage win that had Nicholas Rojas finished ahead of Cavendish, he would have snatched the jersey away. That didn't happen; Cavendish's superb, machine-like HTC lead-out train, led by unsung hero Mark Renshaw, set him up perfectly, and he's now the first Brit to ever win the green jersey. He's also slowly inching up on Eddy Merckx's record of 34 career TDF stage wins (though Merckx, it should be noted, will always be better since he won mountains and time trials, too), and he's only 26. We'll stop whining about his whining now.
Andy Schleck's Crazypants Attack
After a disastrous Stage 16, on which he lost over a minute of time to his main GC rivals, Schleck needed to risk losing the Tour in order to possibly win it. So he did what no cyclist not driven mad by dreams of winning would have done: Launching a solo attack on the hardest mountain stage of the Tour (Stage 18), 60 km and two summits from the end. That Cadel Evans didn't chase him down seemed boneheaded at the time, but it's probably what won him the Tour, since Schleck was most surely feeling this attack when he lost all that time in the time trial on Saturday. But his "no guts, no glory" approach did get him the yellow jersey the next day. It assured that he and his brother would likely end up on the podium in Paris (and they did, Andy in second, Frank in third, the first time two brothers have ever achieved such a feat.) And it's the template by which he will, some year soon, finally win this fucker. Now he just needs to spend the next 11.5 months in a wind tunnel figuring out how to ride a time trial.
Thomas Voeckler's Suitcase of Courage
Cadel Evans winning was pretty great. But you know what would have been even better? Thomas Voeckler hanging in for the win. When the little Frenchman that could scored the yellow jersey after an uncontested breakaway in Stage 9, no one, Voeckler most of all, thought that he would then hold onto the overall lead until Stage 19. They/we shouldn't have underestimated him. He'd managed to stay in yellow for a surprising 10 days in 2004, too. The jersey itself seems to be like a cross between crack and EPO; once you have it, you want to have it more, and the mere act of wearing it seems to be performance enhancing. Every day, Voeckler predicted his own demise, and every day he held on, mostly by managing to stay on the wheels of the elite climbers, who just couldn't shake him off enough to gain back his lead time. He finally cracked in Stage 18, when he couldn't keep up with the elites chasing down Andy Scheck, and yet he STILL kept the jersey that day by a 15 second margin. Even Schleck had to tip his helmet to him. Then he really lost it in Stage 19, but not without mounting a solo chase that kept him in a no man's land between the Contador-Schleck lead group and Cadel Evans' chase group for half of one ascent, down a descent, and up half of the next ascent. His fourth-place finish is the highest of his career and he deserves commendation for keeping this race up in the air for such a thrillingly long time. But we agree with BikeSnobNYC on this one: Here's to hoping he's still addicted to yellow next year, but smart enough to realize that he's better off if he gets it by accident.
Okay, Cadel Evans's Win
Cadel Evans is the first Australian to win the Tour de France and he totally deserved the victory, even if he's not the world's most exciting cyclist. This win was the result of ten years of hard work and bad luck (including the tragic death last year of his longtime coach, Aldo Sassi), and at 34, Evans doesn't have many more years of racing ahead of him.  He'd twice finish second, losing by seconds in 2007 and 2008, and in 2010 had lost the yellow jersey after crashing and breaking his elbow. It's kind of like Al Pacino finally winning an Oscar for Scent of a Woman, except that this actually was the best work of Evans's career.
Evans managed to stay in contention by smartly staying up front and out of the way of crashes; he even won Stage 4. When he got to the mountains, he not only stayed even with pure climbers like Contador and Andy Schleck — despite being a strong and steady (rather than explosive) climber — he actually attacked. He lost out on the chance to follow Schleck's attack on Stage 18, but still managed to stay calm, leading the 60 km chase and losing very little time, and doing so without the help of any teammates or other riders in the Peloton. When he had his unfortunate mechanical issue in Stage 19 and had to chase Contador from the start of the stage all the way up to the top of L'Alpe d'Huez, he again did so with little or no help, powered by sheer will and determination. Voeckler has Evans to thank for having kept the yellow jersey as long as he did; without latching onto Evans's wheel for most of the race, he would have cracked much earlier. And in the end, it came down to Evans absolutely crushing Saturday's individual time trial. He rode like a man who knew this was his last chance, finishing second, a mere seven seconds behind time trial specialist Tony Martin, and obliterating his 57 second deficit to Andy Schleck by gaining 2:31 on the kid, for a 1:34 overall advantage. And he did so in the most unassailable way possible: Simply by being the stronger, smarter rider over the course of three weeks. If the Schlecks somehow learn to ride time trials, or figure out how to gain five minutes at a time in the mountains, we'll switch our allegiances straight away. But watching Evans lose all composure as Aussie singer Tina Arena sang his national anthem atop the podium overlooking the Arc du Triomphe will stand up as one of the best memories in our many years of loving to watch this sport. Cry all you want, Cadel. You earned it.