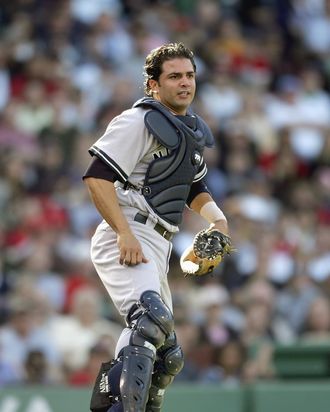 Will Nieves.
Photo: Elsa/Getty Images
You may remember Wil Nieves as the catcher who appeared in 35 games for the Yankees between in 2005 and 2007. Since then, he's made stops in Washington and Milwaukee, and this year, he batted just .140 in 20 games for the Brewers before they outrighted him to triple-A in June. Anyway, with Brian McCann on the disabled list, the Braves were in the market for a catcher, and yesterday, they acquired Nieves from Milwaukee — for the sum of $1. (They immediately assigned Nieves to the minors and called up J.C. Boscan to serve as the new major-league back-up.) As has already been pointed out elsewhere, that's less than the cost of the bag of baseballs fans often suggest their team trade struggling players for.

Nieves, of course, isn't the first athlete to be sent elsewhere for a buck. (The Marlins, for instance, acquired Wes Helms for $1 from the Phillies in 2008.) In fact, it's a big week for the "I was traded for $1" club: Kris Draper, who the Detroit Red Wings famously acquired from Winnipeg for $1 in 1993, retired this week after appearing in 1,137 games with the Wings. (Via the AP, Detroit technically acquired Draper for the then-waiver price of $1.) And that one-dollar transaction was brought up plenty as he hung up his skates. (See here, for example, or here.)
But perhaps the best story about a guy getting traded (or perhaps more accurately, bought) for a dollar comes from a 1994 issue of Sports Illustrated, about the time then-Rangers GM Neil Smith bought winger Ray Sheppard for $1 in 1990. From the magazine:
Ray Sheppard was once bought for a buck. As in four quarters. A crummy eight bits. In 1990 New York Ranger general manager Neil Smith actually paid that paltry sum for Sheppard. Then, during the '90-91 season, while Sheppard was scoring 24 goals in 59 games for New York, becoming the biggest bargain in Manhattan since the purchase of the island itself. Smith visited a card show and noticed a Ray Sheppard rookie card for $2. Said Smith to the vendor, "I'm not spending more for the card than I did for the player."
So the lesson, perhaps, is this: Even if you're not worth much on the trade market, if you play well enough, maybe you'll at least be worth something on the trading-card market.