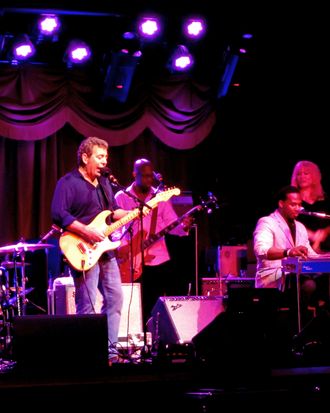 Jim Dolan, performing last night at the Brooklyn Bowl.
It's 5:30 on Sunday evening, and Jim Dolan, dressed in a T-shirt and jeans, stands alone at the front of the stage at Williamsburg's Brooklyn Bowl, tuning his guitar. While he does this, young children scamper around on the hardwood floor in front of him and twenty-somethings order drinks at the back of the room, all while pin after pin falls at the end of the alley's sixteen lanes. This is the the same Jim Dolan who was in the room when the Knicks made their pitch to LeBron James, and right now he's being totally ignored while he noodles with his guitar at a bowling alley, hours before his band, the Straight Shot, performs a set.
Patrons may have even been surprised that a show was scheduled for last night: Unlike for, say, this coming Thursday's Biz Markie D.J. set, there was no cover charge, and the Straight Shot's show was nowhere to be found on the poster advertising the Brooklyn Bowl's August schedule. And indeed, while Dolan and his bandmates went about their soundcheck in full view of the patrons, those patrons just went about their own business, whether their own business was bowling, eating, drinking, or, in the case of those little kids, horsing around on the wheelchair ramp that led to the floor area.
By 7 p.m., the Straight Shot's soundcheck had ended, and the soundcheck for the opening act, a Long Island jam band called Tauk (as in, short for Montauk), began. Dolan, guitar strapped around his neck, hung out on stage during Tauk's soundcheck, too, and this seems like a good place to mention that the bassist for Tauk is Dolan's son, Charlie. (Another member of the Dolan clan, Aidan, would take the stage for a couple of songs suring Tauk's 50-minute set.)
Anyway, at about twenty after 9, it was time for the headliner: The owner of the Knicks and Rangers, backed by a band of six musicians. Dolan had changed shirts since the soundcheck — he was now wearing a button-down shirt with the sleeves rolled up — and he began by saying hello to the bowlers off to his left: "We're going to be playing for you while you roll away."And shortly after Dolan requested that the air conditioning above the stage be turned off, we were underway.
We counted about 50 people watching, or at least kind of watching, the Straight Shot's set at this point, but most of them were either sitting at the sticky picnic tables at the sides of the floor, or standing at the back of the room. There wasn't anyone on the floor within twenty feet of the stage.
So what's Dolan's band like? Truthfully, his backing band is actually pretty tight, and though we'd agree with the recent Times review that called Dolan a "karaoke-grade singer," we suppose we've heard worse. There was a song about Eliot Spitzer, a song about sobriety (introduced by Dolan as he took a sip of water), and a song that Dolan said was the theme of an upcoming TV series called Hell on Wheels. (That show will air on AMC, which is owned by AMC Networks, which was spun off in March from Cablevision, which is controlled by, yep, the Dolan family.)
And then, of course, there was "Fix the Knicks" — a song that even Phil Jackson has made fun of Dolan for. Dolan introduced it as "a song you've all been waiting for," which would indicate that he's well aware that video of a live verson of the song made the rounds on the Internet a couple weeks back. Also worth noting: When he got to the line about Isiah Thomas ("Doing my best, yes that's my promise / I checked with my friend called Isiah Thomas"), the backing vocalists added in some groans, which would indicate that Dolan is also aware that his relationship with Isiah is a touchy subject. Said Dolan at song's end: "Yes, we are getting them fixed. I think."
We'd expected at least a couple of Knicks fans to show up at the show wearing their team's colors, perhaps to heckle Dolan, but mostly out of sheer curiosity. But we didn't spot a single Knicks logo all night (or a single Rangers logo, for that matter). It's too bad: We imagine Knicks fans would have gotten a kick out of the silly sight of the unpopular owner "drumming" along by slapping his thighs.
In general, songs were mostly met with polite applause. Their cover of "Stay Up Late" by the Talking Heads even earned a couple of enthusiastic whistles. But it wasn't until Robert Randolph — who was billed as a special guest — appeared in the second half of the two-hour set (yes, there was an intermission) that the crowd "came alive," in as much as any group of 50 or so people can really come alive. A couple dozen people moved to the front of the floor area, and Dolan was no longer the focal point of the show. The applause grew loudest following the set-closer: a cover of "Purple Haze," with Randolph on vocals.
"We love you, Robert!" yelled one concertgoer after the song ended. It was unclear, meanwhile, whether those in the audience even knew who Dolan was.