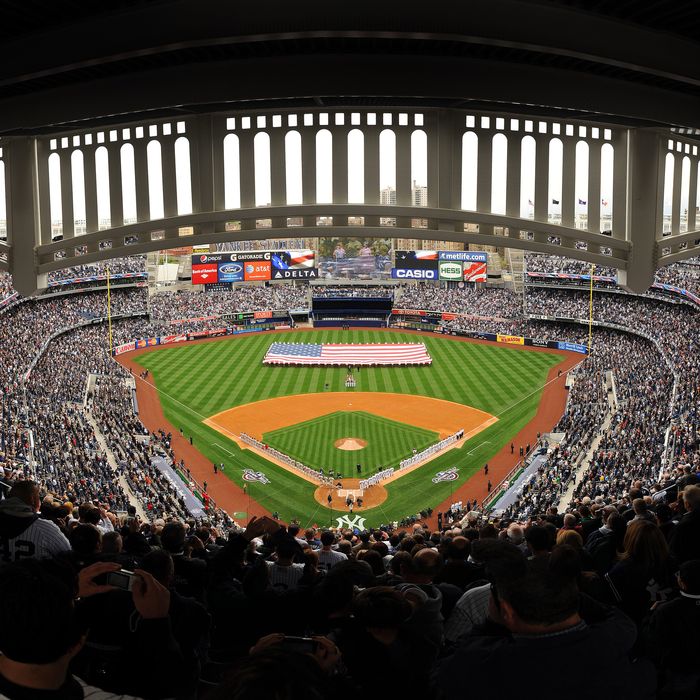 Over at Deadspin today, Barry Petchesky has an interesting piece about a Bridgehampton company that filed for a trademark on the phrase "Baseball's Evil Empire" back in 2009, and how the Yankees weren't happy about it. We're not surprised the Yankees took issue with this company in particular — the merch in question makes use of some satanic imagery, which even Larry Lucchino would admit takes the phrase to something of an extreme place. But though the Yankees may not have embraced the phrase themselves, that doesn't mean that their fans haven't, or shouldn't.

The shirts sold by the Bridgehampton company in question are anti-Yankee, but that doesn't mean that you can't go elsewhere and find navy-blue "Evil Empire" shirts intended to be worn by Yankees fans. (See this one from Stan's on River Avenue, for example.) Like we wrote the morning after the Yankees won the World Series in 2009, we long ago embraced the fact that the Yankees were the team that everyone loved to hate, and those navy-blue "Evil Empire" shirts would indicate that we are not alone.
The Yankees spend a lot of money, and not coincidentally, they win a lot, too. We totally understand why fans of other teams especially dislike them. And look, perhaps rooting for a team that outspends other clubs by so much isn't something to be proud of. (The Yankees themselves, of course, aren't ashamed of that at all.) But though we can't speak for every Yankees fan, we're content with rooting for the team that everyone wants to fail. In fact, like we said back in 2009, it only makes us cheer louder, to match the intensity of those who take special pride in seeing the Yankees lose. It's not necessarily a new aspect of being a Yankees fan, but it's one Lucchino coined, let's be honest, the perfect phrase for. The Yankees may not like seeing Satan appearing inside the interlocking "NY" logo, but that doesn't mean their fans can't embrace the team's status as the bad guy.