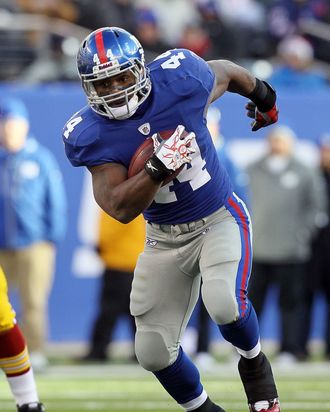 The Giants had been fairly quiet on the free agent market during the first week of the condensed NFL off-season: They'd re-signed a couple of players, but they lost out on Plaxico Burress to the Jets, and watched the rival Eagles land the off-season's biggest prize in Nnamdi Asomugha. (That said, having a new punter in the fold could, at the very least, mean Giants fans have fewer reasons to yell obscenities at their TV screens this year.) But today brings their biggest signing so far, as they've reportedly reached a four-year deal with running back Ahmad Bradshaw.
Bradshaw, an unrestricted free agent, had some options on the open market, but several of his potential suitors (Miami, Cincinnati, Washington) found alternatives at running back over the past few days. Meanwhile, the Giants had brought in free-agent Jason Snelling for a meeting — and Snelling was reportedly in the Giants training complex when Bradshaw agreed to his new contract. And so whether they simply used Snelling to get Bradshaw to sign doesn't much matter now, as the Giants will bring back their leading rusher from last season and a key part of their offense.
Meanwhile, the Osi Umenyiora drama took another turn today: The Giants have reportedly given Umenyiora's agent permission to seek a trade for the defensive end. Umenyiora, of course, isn't happy with his contract — he says that in 2008, Jerry Reese promised him a new contract that would pay him like a top-five defensive end if he was still playing at a high level two years later — but Osi had reported to camp on Saturday and underwent his Giants physical yesterday. According to Sal Paolantonio's source, the Giants want a first-round pick in exchange for Umenyiora. In the meantime, while all this plays out, he's expected to remain in Giants camp.